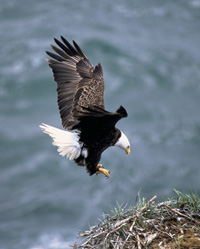 Wild About Raptors!
Presented by The Raptor Center, University of Minnesota


If you've ever caught a glimpse of an owl winging silently through a forest, or a bald eagle riding the summer thermals it's hard not to appreciate how amazing these birds are. Raptors, which are carnivorous (meat-eating) birds, have been around in some form for more than 50 million years. And although there are more than 482 species worldwide, they all share at least three main characteristics; keen eyesight, eight sharp talons and hooked beaks.
Guests at this year's Lake Home & Cabin Show will be able to see a special selection of raptors – live and up-close at the "Wild About Raptors" feature on the show floor. Visitors will see several live raptors including an American kestrel, red-tailed hawk, bald eagle, great-horned owl and a peregrine falcon. You'll learn about these fascinating and adaptable birds through expert naturalists from The Raptor Center (TRC) at the University of Minnesota.
Since its inception in 1974, The Raptor Center has become internationally known for its avian medicine and education programs. TRC treats more than 1,000 sick and injured raptors each year and provides specialized training in raptor medicine and surgery for veterinarians from around the world. TRC reaches more than 150,000 people each year through educational programs and events.
TRC Performance times on the Northwoods Stage are 4 & 6 p.m. Friday, noon, 2 & 4 p.m. Saturday and 11 a.m. & 1 p.m. Sunday.
Quick Cabin Bites!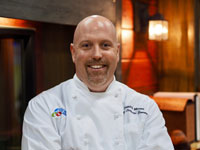 Presented by Chef Patrick Moore, the "Getaway Gourmet"

Chef Patrick Moore, the show's very own "Getaway Gourmet" from Brule, Wisconsin is bringing three of his favorite hors d'oeuvres recipes to the cooking stage this year! As always, his unique cooking presentations combine great award-winning flavors with his own belief that cooking at the cabin can be a wonderful experience that doesn't have to take all day. "You came to the cabin to relax with family and friends," Chef Patrick said, "I'm going to teach you how to make memorable meals and still leave time for play."
This year's "Quick Cabin Bites" recipes include; Triple Mediterranean Bruschetta, Grilled Corn & Black Bean Salsa and Crab & Avocado Salad. The "Getaway Gourmet Cooking Stage is located at the back of the 800 aisle. Free recipe cards and "Quick Cabin Bites" samples will be served!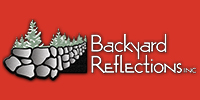 Cooking demonstrations will be presented a number of times each day. (Friday – 3, 5 & 7 p.m.; Saturday – 11 a.m., 1, & 3 p.m. and Sunday – noon & 2 p.m.)
The "Getaway Gourmet Cooking Stage" was created and built by Backyard Reflections, Annandale & Nisswa, Minn.
The Northwoods Seminar Stage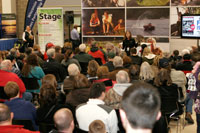 A summertime photo wall is the perfect setting for guests to enjoy unique and informational seminars, demonstrations and activities happening every hour at the "Northwoods Seminar Stage." The complete schedule of events is in the Show Program, and at the stage at the back of the 400 aisle.
Pin My Cabin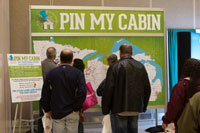 Presented by Wausau Homes

Want to see who your neighbors are? Here's your chance to "Mark Your Second Home Spot" at the PIN MY CABIN Interactive Map Feature presented by Wausau Homes. Located in booth 816, the PIN MY CABIN Feature is a large Midwest state map graphic that "grows" with pins throughout the show.
Don't miss the fun and interactive chance to pin YOUR cabin and see just how many neighbors you really have. Plus, when it's time to build a new custom cabin there's a Wausau Homes dealer virtually anywhere you are in cabin country!
Cabin Redo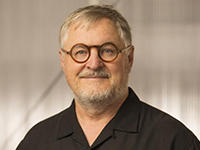 Presented by Dale Mulfinger
Is your cabin old, tired and designed for grandpa's lifestyle? Dale Mulfinger, the "Cabinologist," will bring 30 years of cabin remodeling and transformational design experience to an interactive program on the Northwoods Stage; 3 p.m. Friday and Saturday, and noon on Sunday. Bring your cabin renewal questions, whether your cabin is a quaint log structure, a lakeside rambler or a 80's prow.
Saving the Family Cabin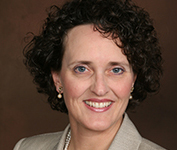 Presented by Maura Steblay

Maura Steblay, The Cabin Coach has "been there, done that." As the fifth of seven children, Maura went through the difficult process of deciding what to do with their parent's cabin when they no longer wanted it or the responsibilities that came with owning it. Maintaining the family harmony was the most important aspect of the succession - but it was how to do that which made it complicated. There are many different wants, needs, visions, emotions and financial situations to contend with. Attend an informative and lively session by The Cabin Coach, Maura Steblay, on the Northwoods Stage at 5 p.m. on Friday and 2 p.m. on Sunday. Maura is a financial adviser, former school teacher and current cabin owner. She bought her parent's cabin and her sibling and parents can still say, "pass the potatoes" at Thanksgiving without acrimony!
Design Your Cabin for Retirement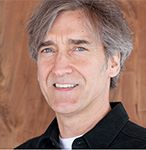 Presented by Steven Mooney, Loon Architects

There are many things to consider when designing your lake home or cabin. Steven Mooney from Loon Architects will focus on tips and design trends for setting up a cabin for retirement or extended use in retirement. Mooney will suggest ways to make your getaway home more comfortable, adaptable for extended use and to appeal to a broader sector of buyers when you decide to sell. Presented on the Northwoods Stage at 10:30 a.m. on Saturday.
Keeping Your Cabin in The Family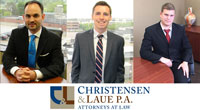 Presented by Nathan Betts, Kenny Smith, Michael Tingum - Christensen & Laue, PLLC

The cabin is the setting for generations of shared family experiences and history. It holds a special place in the hearts of those who have vacationed and spent summers there since childhood. These strong emotional ties among family members can turn your idyllic vacation home into the perfect storm of sibling discord and family wars if mom and dad are not careful about how they transfer this asset to the next generation. Join attorneys Nathan Betts, Kenny Smith and Michael Tingum as they outline the estate planning, corporate and real estate issues surrounding the family cabin and present solutions for governance and maintenance of this most treasured family asset into the next generation.
Rebuilding Your Lakeside Retreat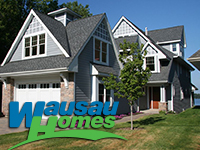 Presented by Wausau Homes

Do you love your lake lot but feel challenged by your current cabin? Whether it's too small for everyone to stay, has an old well with poor water quality or the yearly maintenance costs are getting out of hand, that old cabin just isn't letting your family enjoy it like it used to. Join us at the Wausau Homes Rebuild Seminar to learn what it takes to tear down your existing cabin and rebuild a new custom cabin on your lot! Don't miss this seminar on the Northwoods Stage at 1 p.m. on Saturday.