Pasta Made Perfect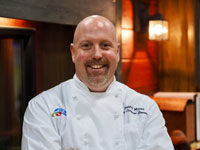 Presented by Chef Patrick Moore, the "Getaway Gourmet"

If you think great pasta comes from a cardboard box filled with macaroni and a foil pouch of orange powder...think again. The easy meal many of us grew up with is going to get a big overhaul at this year's Lake Home & Cabin Show! Chef Patrick Moore, the show's very own "Getaway Gourmet" from Brule, Wisconsin is bringing three of his famous pasta recipes to the cooking stage this year!
As always, his unique cooking presentations combine great award-winning flavors with his own belief that cooking at the cabin can be a wonderful experience that doesn't have to take all day. "You came to the cabin to relax with family and friends," Chef Patrick said, "I'm going to teach you how to make memorable meals and still leave time for play."
This year's "Pasta Made Perfect" recipes include; Rigatoni Bolognaise, Roasted Pepper Chicken with Pesto Tortellini and Shrimp & Garlic Butter Sauce with Angel Hair Pasta. The "Getaway Gourmet Cooking Stage is located at the back of the 800 aisle. Free recipe cards and "Pasta Made Perfect" samples will be served! Cooking demonstrations will be presented a number of times each day. (Friday – 3, 5 & 7 p.m.; Saturday – 11 a.m., 1, & 3 p.m. and Sunday – noon & 2 p.m.)
The "Getaway Gourmet Cooking Stage" was created and built by Backyard Reflections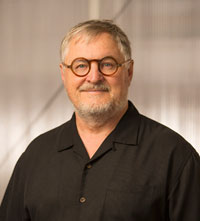 "The Family Cabin..." musings from a new book
Presented by author/architect Dale Mulfinger

"It's not that families simply want a cabin. Families need a cabin to bring balance into their lives, to recharge those rundown batteries, to cleanse their souls, to reconnect to nature…" (anonymous cabin owner.)
Architect, author and "Cabinologist" Dale Mulfinger has been designing and writing about cabins for more than 20 years and is widely acknowledged as the foremost expert on cabins in North America.
His new book, The Family Cabin, is a collection of fascinating cabin stories from 37 unique second homes across America. Mulfinger's practical wisdom for the getaway structures we cherish is a joy to listen to, whether your family already owns a cabin or dreams of owning one soon.
Mulfinger will be rekindling his love for everything cabin in a special presentation each day on the Cabin Living Stage at the Lake Home & Cabin Show. Don't miss your opportunity to share your own cabin stories with Dale and to pick up a signed copy of his new book.
The Cabin Living Seminar Stage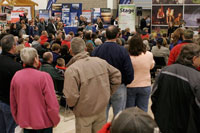 Presented by CabinLife.com

A summertime photo wall is the perfect setting for guests to enjoy unique and informational seminars, demonstrations and activities happening every hour at the "Cabin Living Stage."
The complete schedule of events is in the Show Program, and at the Cabin Living Stage at the back of the 400 aisle.

Pin My Cabin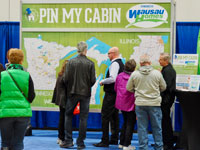 Presented by Wausau Homes

Want to see who your neighbors are? Here's your chance to "Mark Your Second Home Spot" at the PIN MY CABIN Interactive Map Feature presented by Wausau Homes.
Located in booth 914, the PIN MY CABIN Feature is a large Midwest state map graphic that "grows" with pins throughout the show. Don't miss the fun and interactive chance to pin YOUR cabin and see just how many neighbors you really have. Plus, when it's time to build a new custom cabin there's a Wausau Homes dealer virtually anywhere you are in cabin country!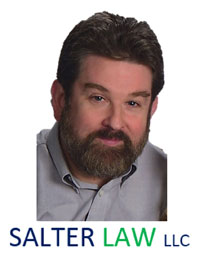 Keeping Your Cabin in the Family

The cabin is the setting for generations of shared family experiences and history. It holds a special place in the hearts of those who have vacationed and summered there since childhood. These strong emotional ties among family members can turn your idyllic vacation home into the perfect storm of sibling discord and family war -- especially if mom and dad or grandma and grandpa are not careful in how they transfer this asset to the next generation.
One of the most popular seminar topics presented at the Lake Home & Cabin Show, these discussions will outline issues and present solutions for governance, maintenance and ownership transfer of this most treasured family asset.   "Keeping Your Cabin in The Family" will be presented by the following experts each day at the show.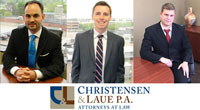 Friday, February 23 – 3 pm:  David P. Salter, Salter Law
Saturday, February 24 – 11 am:  Nathan Betts, Kenny Smith, Michael Tingum, Christensen & Laue, P.A.
Sunday, February 25 – 2 pm:  David P. Salter, Salter Law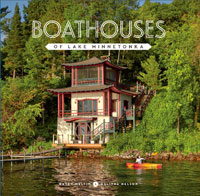 Boathouses of Lake Minnetonka

For three summers photographer Karen Melvin and author Melinda Nelson plied the waters of Lake Minnetonka in search of the lakes best boathouses. Their persistent pursuit resulted in the new coffee table book Boathouses of Lake Minnetonka, an intimate look at nearly three dozen intriguing lakeside structures. With meticulously researched stories and stunningly beautiful photography, the authors have created the definitive book of Minnesota boathouses — known for their indelible beauty and quirkiness.
Meet Karen & Melinda at the Minneapolis Lake Home & Cabin Show February 23-25, 2018. You can buy the book and have it autographed at booth #4.