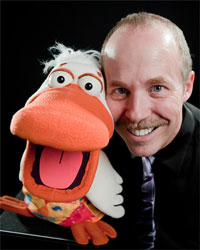 The Cabin Comedian
Laughter truly is the world's best medicine and this year's Lake Home & Cabin Show guests are in for a full dose! Get ready to meet the "Cabin Comedian," Tom Crowl -- a high-energy comedian and ventriloquist who brings more than 30 years of professional entertainment experience into each new performance.
A rare talent, Tom is often recognized from his appearance on NBC's Last Comic Standing as well as his performances at corporate events, associations, theaters, cruises, and casinos and resorts from around the world. Tom has been the featured opener for celebrities including The Drifters, Chubby Checker, Rodney Atkins, The Marvelettes and The Diamonds. Known for his customized comedy, razor-sharp improvisation and total audience participation, Crowl packs non-stop laughter into each of his unique performances.
He is a published author, podcaster, the executive director of the International Ventriloquist Society and is the creator of the first virtual ventriloquism course titled: Learn-Ventriloquism. His act has been captured on DVD in Tom Crowl Alone Again Un-Naturally. Tom's early influences include Señor Wences of Ed Sullivan fame and the comedic performances of Steve Martin and Robin Williams.
Tom Crowl and his hilarious duck "Dangerous" will be appearing daily on the Northwoods Stage. Performance times are 4 & 6 p.m. Friday, noon, 2 & 4 p.m. Saturday and 11 a.m. & 1 p.m. Sunday.
Decadent Desserts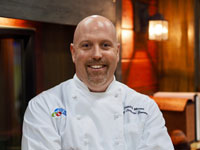 Presented by Chef Patrick Moore, the "Getaway Gourmet"

Chef Patrick Moore, the show's very own "Getaway Gourmet" from Brule, Wisconsin is bringing three of his favorite dessert recipes to the cooking stage this year! As always, his unique cooking presentations combine great award winning flavors with his own belief that cooking at the cabin can be a wonderful experience that doesn't have to take all day.
"You came to the cabin to relax with family and friends," Chef Patrick said, "I'm going to teach you how to make memorable meals and still leave time for play."
This year's "Decadent Desserts" recipes include; Mixed Berry Shortcake with Chantilly Cream, Piña colada Pineapple Napoleon and Chocolate Raspberry Tart with Raspberry Sauce and Fresh Cream. Free recipe cards and samples will be served! Cooking demonstrations will be presented a number of times each day. Friday – 3, 5 & 7 p.m.; Saturday – 11 a.m., 1, & 3 p.m. and Sunday – noon & 2 p.m.
The Wood Joiners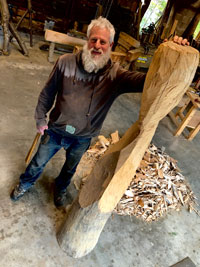 The art of timber frame building with Michael Yaker, De Forest, WI

Come watch the wood chips fly at this timber framing demonstration at the Lake Home & Cabin Show. Using only an assortment of hand tools carpenter Michael Yaker takes us through the various construction processes that are at the heart and soul of timber frame building.
Timber framing and "post-and-beam" construction is a general term for building with heavy timbers rather than "dimension lumber" such as 2"x4"s. Used throughout the world for thousands of years, traditional timber framing is the method of creating structures using heavy squared-off and carefully fitted and joined timbers with joints secured by large wooden pegs. The method comes from making things out of logs and tree trunks without modern high tech saws to cut lumber from the starting material stock.
Woodjoiner demonstrations will be given several times each day at the Lake Home & Cabin Show.
Pin My Cabin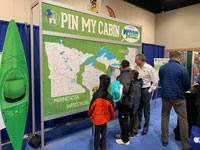 Presented by Wausau Homes

Want to see who your neighbors are? Here's your chance to "Mark Your Second Home Spot" at the PIN MY CABIN Interactive Map Feature presented by Wausau Homes. Located in booth 537, the PIN MY CABIN Feature is a large Midwest state map graphic that "grows" with pins throughout the show.
Don't miss the fun and interactive chance to pin YOUR cabin and see just how many neighbors you really have. Plus, when it's time to build a new custom cabin there's a Wausau Homes dealer virtually anywhere you are in cabin country!
The Northwoods Seminar Stage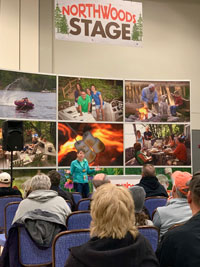 A summertime photo wall is the perfect setting for guests to enjoy unique and informational seminars, demonstrations and activities happening every hour at the "Northwoods Seminar Stage." The complete schedule of events is in the Show Program, and at the stage at the back of the 400 aisle.