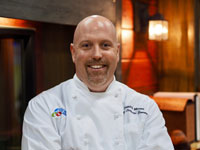 Gourmet Tacos!
Presented by Chef Patrick Moore, the "Getaway Gourmet"


Chef Patrick Moore, the show's very own "Getaway Gourmet" from Brule, Wisconsin is bringing three of his favorite taco recipes to the cooking stage this year! As always, his unique cooking presentations combine great award winning flavors with his own belief that cooking at the cabin can be a wonderful experience that doesn't have to take all day.
"You came to the cabin to relax with family and friends," Chef Patrick said, "I'm going to teach you how to make memorable meals and still leave time for play."
This year Chef Patrick is taking the ordinary boring taco bar and turning it into a new favorite for the cabin! How about Garlic Lime Chicken Tacos with Pico de Gallo and Dirty Rice? Or you might want to try the Chef's Pork Carnitas with Salsa Verde and Red Beans & Rice. And if you're still hungry for a new taste thrill look no further than Chef Pat's Shrimp Tacos with Cilantro Pesto and Herbed Rice.
Don't miss the popular cooking demonstrations at the show this year -- free recipe cards and samples will be served! Cooking demonstration times are: Friday – 3 & 5 p.m.; Saturday – 11 a.m., 1, & 3 p.m. and Sunday – noon & 2 p.m.)
The Northwoods Stage


A summertime photo wall is the perfect setting for guests to enjoy unique and informational seminars, demonstrations, and activities happening at the "Northwoods Stage." Learn from the pros, get expert tips and enjoy all the fun!
The complete schedule of events will be listed at the stage.