"Pollinators Live!" with Rob Mies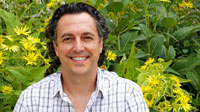 Presented by conservation biologist Rob Mies

Why are pollinators important? Without the actions of pollinators agricultural economies, our food supply and surrounding landscapes would collapse! Birds, bats, bees, butterflies, beetles and other small mammals that pollinate plants are responsible for bringing us one out of every three bites of food we eat.
Between 75 to 95 percent of all flowering plants on our planet need help with pollination. Pollinators also support healthy ecosystems that clean the air, stabilize soils, protect from severe weather and support other wildlife. Unfortunately, many key pollinator populations are in decline. This decline is attributed most severely to a loss in feeding and nesting habitats, pollution, the overuse of herbicides and pesticides, disease and changes in climatic patterns. What can responsible home and cabin owners do about this? Plenty!
According to Rob Mies, founder of the Organization for Bat Conservation and a member of the North American Pollinator Protection Campaign (NAPPC), the first step always includes awareness and education.
Mies will be speaking on pollinators at the 2018 Lake Home & Cabin Shows and will teach attendees how to identify the most common pollinators around their lake homes, cabins and urban residences. He will also discuss the best ways to attract native pollinators by planting wildflower gardens and providing roosting and nesting homes for these important animals.
Don't miss the interactive and educational "Pollinators Live" presentations on the Cabin Living Stage with Rob Mies, presented at 4 and 6 p.m. on Friday, noon, 2 & 4 p.m. on Saturday and 11 a.m. and 1 p.m. on Sunday. See live birds, bats, bees and butterflies!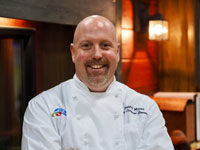 Pasta Made Perfect
Presented by Chef Patrick Moore, the "Getaway Gourmet"


If you think great pasta comes from a cardboard box filled with macaroni and a foil pouch of orange powder...think again. The easy meal many of us grew up with is going to get a big overhaul at this year's Lake Home & Cabin Show! Chef Patrick Moore, the show's very own "Getaway Gourmet" from Brule, Wisconsin is bringing three of his famous pasta recipes to the cooking stage this year!
As always, his unique cooking presentations combine great award-winning flavors with his own belief that cooking at the cabin can be a wonderful experience that doesn't have to take all day. "You came to the cabin to relax with family and friends," Chef Patrick said, "I'm going to teach you how to make memorable meals and still leave time for play."
This year's "Pasta Made Perfect" recipes include; Rigatoni Bolognaise, Roasted Pepper Chicken with Pesto Tortellini and Shrimp & Garlic Butter Sauce with Angel Hair Pasta. The "Getaway Gourmet Cooking Stage is located at the back of the 200 aisle. Free recipe cards and "Pasta Made Perfect" samples will be served! Cooking demonstrations will be presented a number of times each day. (Friday – 3, 5 & 7 p.m.; Saturday – 11 a.m., 1, & 3 p.m. and Sunday – noon & 2 p.m.)
The "Getaway Gourmet Cooking Stage" was created and built by WisconsinPavilions.com.
"The Family Cabin..." musings from a new book
Presented by author/architect Dale Mulfinger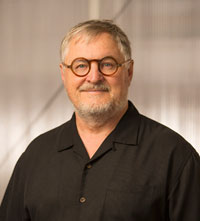 "It's not that families simply want a cabin. Families need a cabin to bring balance into their lives, to recharge those rundown batteries, to cleanse their souls, to reconnect to nature…" (anonymous cabin owner.)
Architect, author and "Cabinologist" Dale Mulfinger has been designing and writing about cabins for more than 20 years and is widely acknowledged as the foremost expert on cabins in North America.
His new book, The Family Cabin, is a collection of fascinating cabin stories from 37 unique second homes across America. Mulfinger's practical wisdom for the getaway structures we cherish is a joy to listen to, whether your family already owns a cabin or dreams of owning one soon.
Mulfinger will be rekindling his love for everything cabin in a special presentation each day on the Cabin Living Stage at the Lake Home & Cabin Show. Don't miss your opportunity to share your own cabin stories with Dale and to pick up a signed copy of his new book.
The Cabin Living Seminar Stage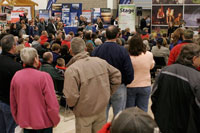 Presented by CabinLIFE.com

A summertime photo wall is the perfect setting for guests to enjoy unique and informational seminars, demonstrations and activities happening every hour at the "Cabin Living Stage." The complete schedule of events is in the Show Program, and at the Cabin Living Stage at the back of the 400 aisle.
Pin My Cabin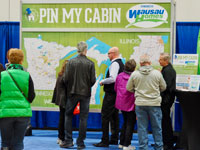 Presented by Wausau Homes

Want to see who your neighbors are? Here's your chance to "Mark Your Second Home Spot" at the PIN MY CABIN Interactive Map Feature presented by Wausau Homes.
Located in booths 538/539, the PIN MY CABIN Feature is a large Midwest state map graphic that "grows" with pins throughout the show. Don't miss the fun and interactive chance to pin YOUR cabin and see just how many neighbors you really have.
Plus, when it's time to build a new custom cabin there's a Wausau Homes dealer virtually anywhere you are in cabin country!