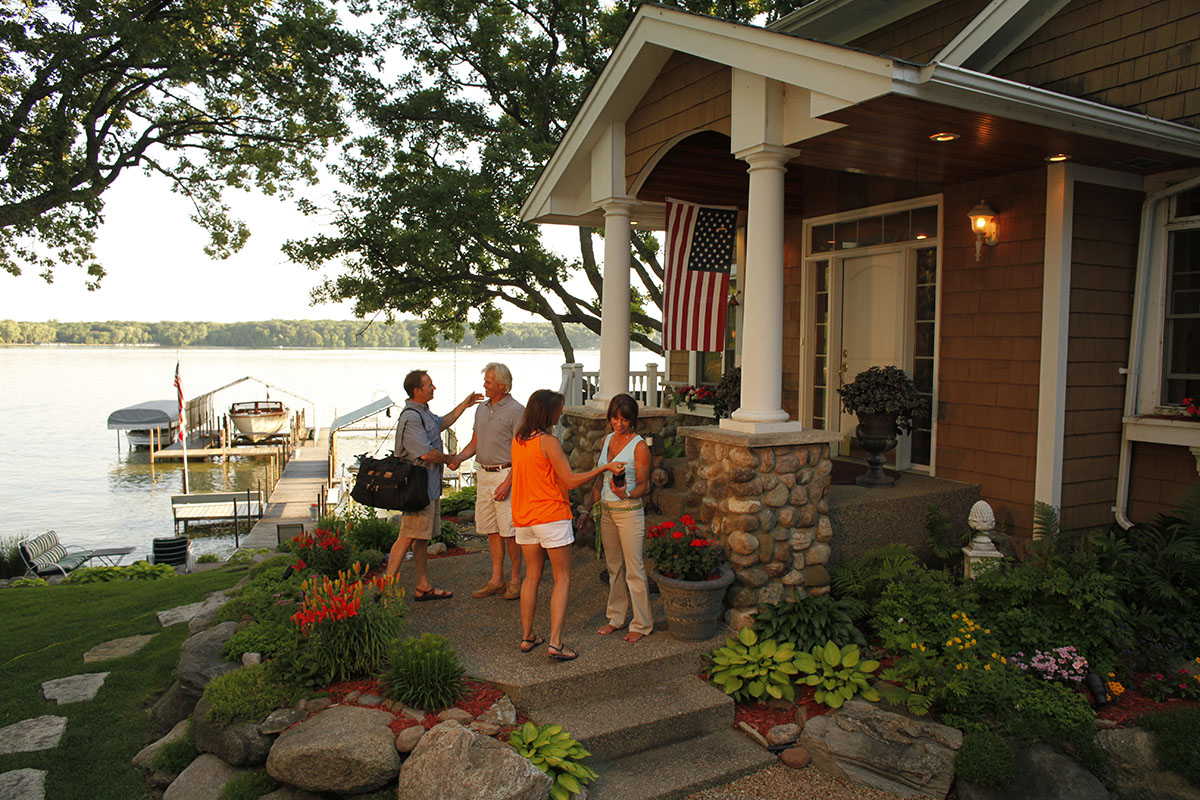 by Ainsley Lawrence
Whether you are looking for a vacation spot for the summer season or a permanent space to call home, waterfront property is a great investment. Having one allows you the chance to relax, enjoy great views, and bring out the family for memorable weekends. However, due to their location and often excessive costs, careful planning and considerations must be made before you jump into signing a new mortgage on a waterfront home.
There are many aspects to think about as you look into your new real estate venture, from the types of weather you will be experiencing and the safety you will need in that regard to the costs for utilities, insurance, and other aspects you may not have considered. Let's take a look at what to look for and ask about as you start looking at properties.
Get Information From Multiple Sources
If you are new to the waterfront property scene, then you are going to need a helping hand along the way, so it is highly recommended that you use the services of a real estate agent. Not only will they show you the best options in your price range, but they also know all of the extras that you may not be aware of and they can create a smoother purchasing process. It is important to not just pick an agent out of a hat, but instead find one who is a waterfront specialist and you can find out by asking the real estate agency.
While your agent can help you find the best homes, they are still a business professional looking for a profit. Although they are a great help, it is also a wise idea to talk to the neighbors around any house that you find appealing. Ask them if they have ever had any issues with the property as well as what they like most and least about living there. Ask the closest neighbors about environmental concerns like sea-level rise or tide levels and what they do to mitigate the dangers of flooding.
While you are speaking with the locals, ask them about the Homeowner's Association (HOA) and their opinions about the cost and whether the services provided are worth the price. While the HOA is typically responsible for providing services for the community, they also create guidelines for how you can and can't modify your home or what you can build on your property, so if you have a creative spirit, an HOA may not be for you. You also need to ensure that you can afford the fees, which can often be a couple of thousand dollars per year.
Weather Considerations
While natural disasters can occur almost anywhere, some, like flooding and hurricanes, can be more likely when you live on the water, especially along the coasts. As a waterfront homeowner, you may be charged with extra responsibilities that you never considered. The main pain point maybe repairing the bulkhead, which is the wall that separates the water from your property. When looking at homes, prioritize those with a strong and well-maintained bulkhead or you may be responsible for costs that could be thousands of dollars.
There are other modifications that many waterfront homes need due to the potential for extra rain or flooding. One aspect that you definitely want to see while house hunting is storm windows, which are additional coverings over your windows that prevent outside air and water from leaking in. They can also preserve the quality of older windows if you are looking to purchase a historical property.
Due to the potential elemental dangers, you must take the time to investigate the construction of the house to ensure that it is fit to handle any incoming storms. Inquire about the framing inside the house, which should be made up of corrosion-resistant materials such as treated wood and concrete. On the outside, siding is good, but brick will last longer and stay stronger against the elements. Roofs can deteriorate faster in wet climates, so if you find a property with metal roofing, you're on the right track. Your questions about construction can even go as deep as to the caulking that holds the pieces together which should be water-resistant. If you can find a residence that mixes beauty with expert craftsmanship, then you are on the right track.
Potential Costs
There is no way around it. Lake and waterfront homes are expensive. Homes on the water are very desirable to buyers, especially those who own a boat or enjoy water sports. These homes are so coveted that they may even be placed in a specialty loan category. To have your best chance of securing your dream home, you will want to have financing available and a down payment ready, so you can get ahead of other interested parties who don't have their ducks in a row.
On top of the expensive monthly payments, you may also need to pay for additional insurance protection that you wouldn't need at landlocked properties. Due to the potential for natural disasters, you may need to purchase flood, wind, and general hazard policies in addition to your homeowner's insurance. These additional policies will add to your yearly bills but so will the costs associated with fixing your property yourself if you don't have this protection.
Finally, you are going to need to think about utility costs. At your home in the city, you likely have immediate access to electricity, clean water, and internet, but in the country, you may have to look for alternate solutions. One of the highest costs you will need to consider is maintaining a working septic system. When you find a property you like, spend the time and money necessary to have it inspected with an emphasis on utilities like the septic tank, heating, and air conditioning systems. If they need repairs, ensure that it can be fixed before you move in or consider a different property as repair costs can be expensive.
While there are important considerations and risks, the ability to own a waterfront home is an amazing experience that is well worth the effort. Take the time to research and talk with professionals and you will have the dream home in no time.
Ainsley Lawrence is a freelance writer with an interest in business, technology, good health, and beautiful places. She is frequently lost in a good book.