by Paisley Hansen
Cabins are excellent for getting away from the hustle and bustle of everyday life. However, their interiors can often feel dark and outdated. Luckily there are plenty of ways to update a cabin without spending a fortune. These seven affordable design options offer ideas to get you started on the right foot.
Give It a Coat of Paint
Banish those wood covered walls to mere memories. For less than $100, a fresh coat of paint can completely transform your cabin interior's look and feel. Choose light and neutral colors for the biggest impact. If you are feeling adventurous, you might even play with some wash techniques to play up the rustic feel of a cabin. Adding white beadboard or lattice to walls can really take a dark cabin interior and make it feel bright yet inviting.
Update Technology Features
Just because you are decorating a cabin does not mean technology has to fall by the wayside. In fact, a remote and rustic retreat is the perfect place to really invest in tech gear like smart thermostats and light fixtures. If your budget has a little more flexibility, solar panels are an excellent way to ensure that you will still have modern conveniences, even if you are trying to escape the rest of the world. Add an uninterruptible power supply to avoid data loss from power outages or a finicky utility connection.
Refinish the Floors
Having your floors professionally refinished is far from an affordable project, but many adventurous homeowners have decided to take the tasks on themselves. Many times wooden floors do not need to be completely sanded down. After a quick pass with a buffer and a thorough cleaning, you should be ready to start adding a new finish. There are also great options for laminate or tile if you opt to go with something completely new. Keep in mind that removing any existing flooring may expose you to lead paint or asbestos, depending on what is on the floors. For that reason, you'll want to take proper precautions if there is paint or linoleum on the floors now.
Hang Floating Shelves
Floating shelves are a quick way to refresh an outdated space. They also serve to get items up off of floors, which can help make smaller spaces seem more open. Look for shelving made from natural materials for a rustic look. Installing floating shelves is relatively straightforward, but you should still read any instructions before you get started.
Increase Natural Light
Many cabins suffer from a lack of natural light. Although you will have to work with the windows and doors that you have to stay within budget, you can maximize it. Remove heavy window treatments and opt for sheers or shades that can be opened to let the light shine in. Hang lots of mirrors throughout the main rooms; they reflect light to help disperse it throughout the space. Light-hued walls will also help open things up and make them seem lighter and airier.
Add Slipcovers
Casual slipcovers help set a relaxed and laid back atmosphere, which is perfectly suited for cabin living. They also help protect your furniture from wear and stains. There are tons of different styles and patterns to choose from online or at local home and big box stores. Heavy cotton duck fabric is a durable and attractive option. You might also opt to just toss quilts or throws over furniture.
Bring the Outside In
Cabins and vacation cottages virtually cry out for natural elements. Use houseplants, such as ferns, snake plants and miniature palm trees, to green up the interior space and help filter the air. Use fun and rustic containers to maximize their impact. Pay attention to light requirements and place them accordingly throughout rooms. Natural fibers for window treatments and furniture is another great touch.  If you want to carry the theme even further, spend an afternoon refinishing a thrift store wicker patio table found for the entryway.
By brightening up the walls, bringing the outdoors in and updating your technology, you can transform even the most outdated cabin interior without destroying your budget.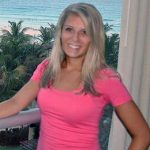 Paisley Hansen has worked in real estate most of her professional career. She graduated from the University of California – Berkeley with a bachelor's degree in Marketing. When she's not creating content or working with clients, he enjoys hiking and traveling with her husband.