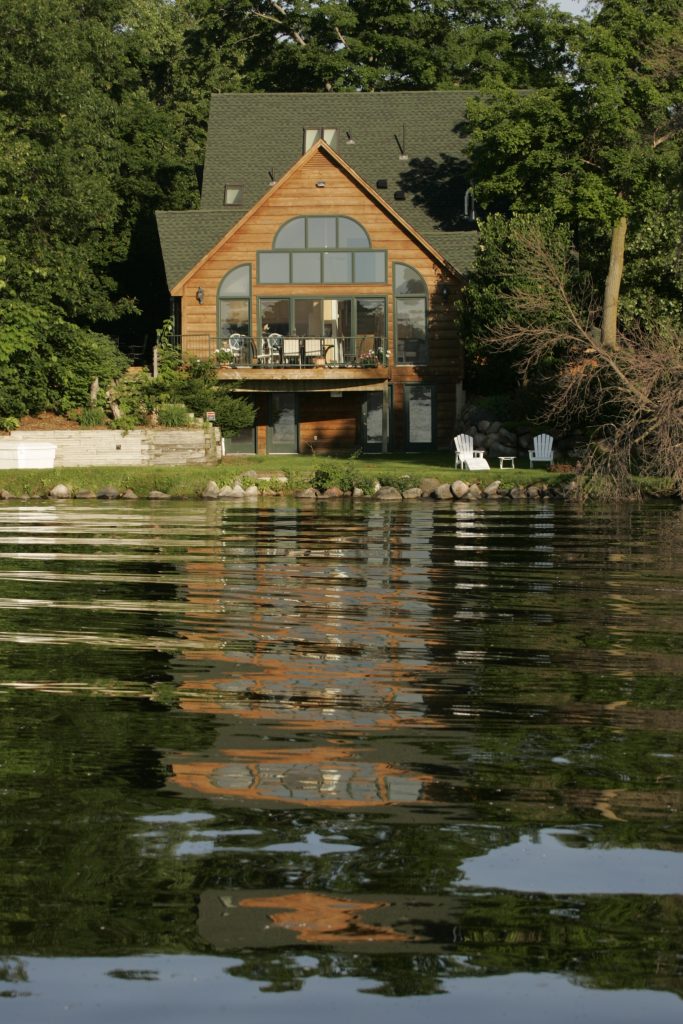 By Patrick Adams
Having a lakefront home comes with many amazing benefits. And frankly, there is nothing better and more beautiful than having breathtaking landscaping that will make your lakefront yard. But creating a polished garden that goes along and doesn't overpower the lake review. Here is how you can enhance your lakefront home yard.
Make Sure You Look for Plants That Thrive in Damp Soil
As we all know every type of plant needs water in order to survive but when you are beautifying your lakefront home with plants it can be tricky. Because of the location, you will need to pick greenery that can take a lot of water and still survive. That is why you will need to pick plants that will dig their roots deep into the soil. Some of those are lily of the valley, Blue vervain, irises, and many more.
Plant Shrubs Along the Upper Banks
The simplest way to beautify your lakefront home yard is by planting shrubs around the upper banks. Planting shrubs like Snowbell, Climbing Aster and Swamp Rose will bring in more beauty and it will make it feel much nicer and homey.
Build a Patio
When you have a lakefront home, you should always spend as much of it outside as you possibly can. That is why a patio will do wonders for you. There is nothing that will go with your garden and a breathtaking view of the lake than adding a patio to your yard. It will not only make your yard more beautiful it will also raise the value of your home. And on top of that, it's the best way to update your home and make it more beautiful.
Don't Remove Plants that Are Already Existing
If you ever speak to a professional landscaper, they will tell you that no matter what you want you shouldn't disturb any of the plants that are already existing along the waterline. One of the main reasons for that theory is that most of the plants that are already there are fully grown and they are well-routed. In most cases, if you try to remove them you will end up causing more harm than good. The second important reason you shouldn't remove them because they are serving a purpose as a barrier for erosion. And the final reason why you should never remove them is that they are serving as a habitat for animals that live in the area.
Go with Colourful Flowers
While most people think that landscaping is just planting some plants and you are good to go, there is more to it than that. You will need to pick shrubs, green plants but also some colorful flowers. But the most important thing is that you pay attention to their position. Flowers should be planted closer to the back of your home. But when you are planting flowers and plants you will need to have the equipment to take care of them. Some of the things are hoses, hose reels, gloves, shears, etc.
Don't Forget About Outdoor Entertaining
Another thing that is an absolute must when you have a lake house, especially if you have children is creating outdoor entertainment in your yard. It doesn't need to be anything extravagant that will crowd your yard and upset the calming aspect of having a lakefront home. Add things lid firepits, a place you can host cookouts, ping pong tables, or hammocks where you will be able to enjoy the amazing scenery.
Do Some Hardscaping
If you are looking to beautify your yard but not having to bother with a lot of upkeep hardscaping is the way to go. So, in order to beautify your yard without planting plants adding things like birdbaths, a vine-covered arbor or lawn ornaments. Hardscaping is a great way to beautify it because they won't get destroyed during winter months nor require much upkeep like watering or weeding.
Get Some Ground Covers
As we all know maintaining grass is hard to maintain. If you want it to look nice you will need to mow it and water it regularly. That is not only time-consuming but it is quite exhausting. If you are looking to reduce the amount of yard you need to mow, add ground covers. Ground covers will not only help you with the maintenance they will also add some luxury and texture to your yard. The typical potion for ground covers is succulents because, in the long run, they will save you money and energy. It is one of the simplest ways to beautify your yard and make your lakefront home yard more breathing.
Lake living comes with so many amazing benefits that will positively impact not only your physical health as well as mental health. That is why you need to realize that your yard ambiance is just as important as your interior.

Patrick Adams is a freelance writer and rock-blues fan. When he is not writing about home improvement, he loves to play chess, watch basketball, and play his guitar. More than anything, he loves to spend his time in his garage, repairing appliances and creating stuff from wood.