by Mikkie Mills
So, this is the summer you are going to finally get around to fixing up the family's rustic cabin? When these five improvements are completed, you might even consider visiting during the other three seasons, too.
Create Floor Envy
Hardwood floors in any room are beautiful, durable and are sure to start a conversation upon entry. Using reclaimed wood flooring to your cabin's interior. Reclaimed wood can come from many different sources including old barns, factories, warehouses, even old boats. Talk about history! Not only are you reusing salvaged hardwood and keeping it out of the landfill, depending on the species of wood, you will probably save a buck or two on the cost of materials. And, you can roll up those ratty, old throw rugs. You will not want to hide this floor. Peeling linoleum, cheap-feeling laminates and cold-on-the-toes tile can't hold a candle to the comfort of wood under your feet.
Hang a Hammock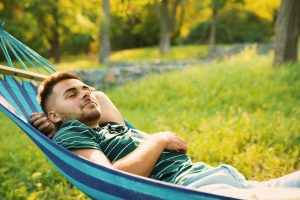 Relaxing with friends and family can be taken to a new height by installing a hammock on the deck or the front porch. Simply screw industrial-strength eye bolts into the wall or a support beam at least 12 feet apart or two feet longer than the length of the hammock. If this is not an option, there are plenty of hammock stands available on the market. There are several styles of hammocks to choose from, including the traditional rope hammock or the more elegant Brazilian and Nicaraguan hammocks. Some even come with drink holders. If space is at a premium, consider a hammock chair. These can be hung by one rope from a beam in the ceiling, again using a heavy-duty eye bolt. Picture yourself relaxing at sunset with a book splayed open on your chest and your faithful dog snoozing nearby. Pure heaven.
Upgrade the Fireplace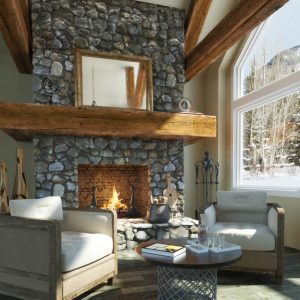 Generally speaking, the fireplace is the most dominant feature of any cabin. Why not accentuate that character with some simple updates? The first place to start is a deep cleaning to get rid of the soot stains that develop over time from repeated use. If the fireplace has a mantel, maybe a new coat of paint or decorative tile will add new life to the room. After the paint has dried, add to the looks of the mantle with some decorations such as candles, paintings, and planters to add a fabulous focal point to the room. Not quite enough? You can completely revamp an outdated brick fireplace in just a couple of days using inexpensive stone veneer. Then top it off with a new mantel crafted from rustic, reclaimed wood.
Display Some Wildlife on Your Walls
Bring the outdoors inside with some carefully chosen framed photographs. If possible, chose photos of native species. The sky's the limit on framing choices. You can select fancy or farmhouse fresh. Try arranging a grouping of an odd number of photographs. Do not be afraid to experiment: What is pleasing to YOUR eye is what counts. Create your zen with your favorite green scenes, or go wild with a few animal prints.
Create a Breakfast Nook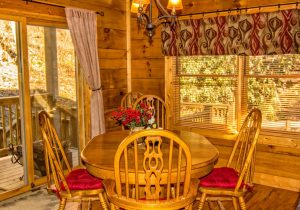 A breakfast nook is a perfect spot to enjoy a steaming cup of coffee or tea in the morning, get your social media to fix in the afternoon, and savor a pint of craft beer or a glass of wine and a charcuterie platter in the evening. A nook can be relished in solitude, or it can be turned into a boisterous space when you invite a few of your best buds to join us. All you need is a table and a bench or a few chairs. Check out architectural resale stores or secondhand stores for some unique and inexpensive options.
Your cabin is your well-deserved retreat from real-world hassles. It can also be your legacy. Taking the time today to complete these simple updates will ensure that your children and their children's children will enjoy the cabin for generations to come.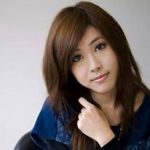 Mikkie is a freelance writer from Chicago. She is also a mother of two who loves sharing her ideas on interior design, budgeting hacks, and DIY. When she's not writing, she's chasing the little ones around or can be found rock climbing at the local climbing gym.