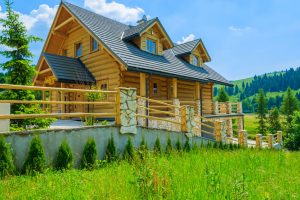 by Craig Middleton
There are many reasons you may want your home to look like a traditional cabin. Cabins evoke a sense of history, simplicity and nature. What distinguishes cabins from other home designs is a rustic, casual feel. They tend to be smaller and less refined than other styles of houses. However, no matter how rustic you may want your home to appear, you still need modern comforts and amenities. Here are some ways to have a traditional, rustic-looking cabin that functions in today's world.
Clean Lines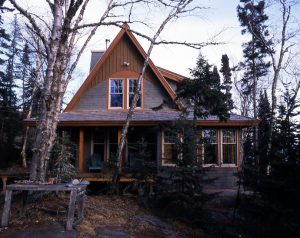 Cabins are all about practicality; you want nothing frivolous or fussy cluttering up the facade. Most cabin designs follow a minimalist approach, where form must follow function. A steeply pitched roof is a must in snowy regions, but boxier shapes are fine in dry, warm climates. No matter the overall shape, one thing most cabins have in common is a tendency toward simple lines and a tidy aesthetic. Do not bother with ornate molding, gables or gingerbread trim on your cabin's exterior; load-bearing columns may be necessary, but keep them hefty and plain.
Solar Power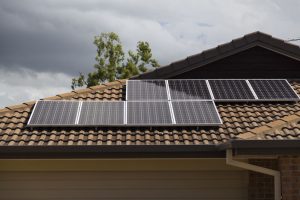 Cabins remind us of a time when people could build what they needed, using just what the environment provided, a little ingenuity and the strength of their own two hands. To capitalize on that self-reliant notion, use solar power as much as possible. A solar water heater can supply you with steaming hot showers all year-round for a fraction of the cost of an oil, electric or gas model. A solar attic fan will help you keep the cabin cool during the summer. Solar panels, either in a rooftop or ground array, can increase your energy independence. A robust solar system may completely eliminate your reliance on other power sources. Install a solar power battery, or a bank of them, to store solar power for use after the sun goes down.
Durable, Sustainable Building Materials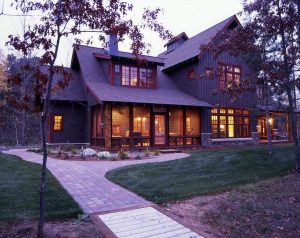 Many traditional cabins harmonize with their surroundings; they look as if they have been there for generations and will stand for generations to come. That sturdy appearance comes in part from building with strong materials that weather well. Wood is a popular natural choice; use recycled or repurposed timber if you can. Wood-look composites are an easy-care, low-maintenance alternative, and are also resistant to rot and insects. If you prefer to stick with natural materials, a stone facade is an excellent choice.
For the interior, exposed beams — steel or wood — suit the informal cabin vibe. They add interest, highlight architectural features and give height to living spaces while still feeling cozy. Use low-maintenance, locally sourced materials throughout. In the kitchen, install butcher block counters and an oversize farm sink. In other rooms, you will love details such as sealed concrete floors, wrought iron stair rails and reclaimed barn doors. For warmth, a living room fireplace is a must.
Large Windows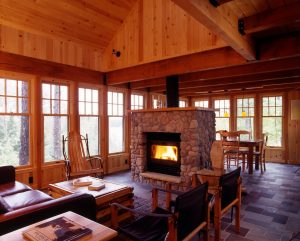 If your cabin is on a hillside, by the coast, beside a stream or nestled in the woods, you want to make the most of your view with large windows. Even in less picturesque settings, installing large windows creates a cheery home by letting sunlight stream in. In the winter you will also appreciate the sun heating your rooms. However, to keep your home cooler in the summer and warmer in the winter, be sure you get energy-efficient windows for your cabin. The best windows have double panes encased in treated wooden frames. A tint or coating can increase the ultraviolet protection and maximize the energy efficiency of the glass. Your investment will pay off in performance, durability and looks.
Ample Connectivity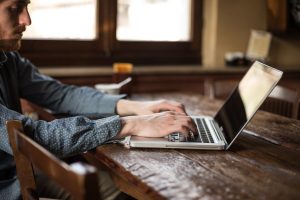 For a vacation home, you may want a remote cabin that is totally off the grid. However, if you are living in your cabin year-round, Wi-Fi and cellular connectivity is essential. Keep cords and cables hidden, either within walls or by using cord organizers. When possible, avoid cords altogether by using smart devices that operate over Wi-Fi. Today's hubs, control panels and other items are small, sleek and unobtrusive, so you can combine rustic design and high-tech devices beautifully.