By Tanya Mayer
Living by the water might sound like a dream for many homebuyers, but once you secure a water-side property, there can be plenty of roadblocks to overcome. Given the proximity to nature, not all of them will be easily manageable, either, but the draw of lakefront living may well make it all worthwhile.
The Challenges
Even the most beautifully-manicured lawn is prone to the occasional weed, and in any ordinary yard you might just grab a bottle of pesticide, but living by the lake comes with extra layers of responsibility. There are many pesticides that, when introduced to the water, pose dangers to aquatic life, so you'll need to consider other methods of removal. Mulch is great for preventing clovers, while nettles can be carefully removed by hand, and your lawnmower will help put an end to soursop growth, but identifying and removing weeds like dandelions without pesticides might be a job for a professional gardener.
Even once your lawn is in spectacular condition, one of the biggest threats to any lakeside property is the potential for flooding and erosion. There are several options for keeping your shoreline sturdy, including sand, but riprap is the only trusted method of preventing erosion in the long-term.
If you intend on landscaping near the water itself, you may need prior council approval before any plans go ahead, as any significant changes you make are likely to impact the lake's ecosystem. 
Working around the wildlife in your backyard is another potential concern, especially in areas that are home to protected species. Therefore, it would be wise to read up on the range of animals that share your yard. 
You'll also need to be aware that as you get closer to nature, the likelihood of coming across dangerous animals increases. Freshwater lakes and their surrounds can be occupied by a number of somewhat panic-inducing species like electric eels or Goliath birdeater tarantula, and then, of course, there are the bugs.
 A range of insect species, including the humble mosquito, breed on the water, so unless you're prepared to be eaten alive during the breeding season, you'll need to explore methods of keeping pests at bay. Whether you decide to opt for insect-repelling candles, sprays, or nets, remember that the condition of your garden and what you choose to plant in it will, to some extent, determine the types of pests you have hanging around.
The Benefits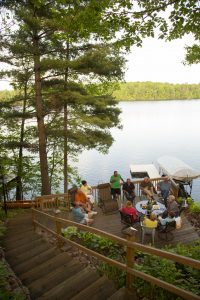 There's no doubt that one of the most universally attractive things about living by the lakeside is the view. By starting with views of the water, you can add instant value and ultimately set your property up at the luxury end of the market. Taking advantage of your outlook could be as simple as extending your living quarters beyond the home with an outdoor furniture set. 
Once you have that prized outlook, privacy is the next logical consideration, and it's easy to understand why. Some level of seclusion is crucial to creating a feeling of comfort in your home, and being by the lake automatically eliminates any possibility of new neighbours moving in directly across from you (or next to you). This will leave you with plenty of space to enjoy unlimited access to the water, whether it be for swimming, boating, or any other kind of aquatic activity. You might even like to accentuate this feature of your yard by installing a path from your front door to the water. 
Proximity to the water and trees also means you're likely to spot all kinds of wild creatures living around your property. If you give your landscape due consideration and select your plants with care, you'll be able to maintain – or even improve – the conditions for native animals, and enjoy having them visit your yard. 
If you have done your research on the pros and cons and still have your heart set on the lakefront lifestyle, then there's nothing stopping you from getting to work with the toolkit and turning your outdoor oasis into a haven for native wildlife and human visitors alike – just don't forget the bug spray!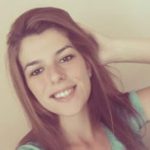 Tanya Mayer is a blogger from Brisbane, Australia. She is interested in writing on various topics relating to family, home and home improvement.