by Holly Welles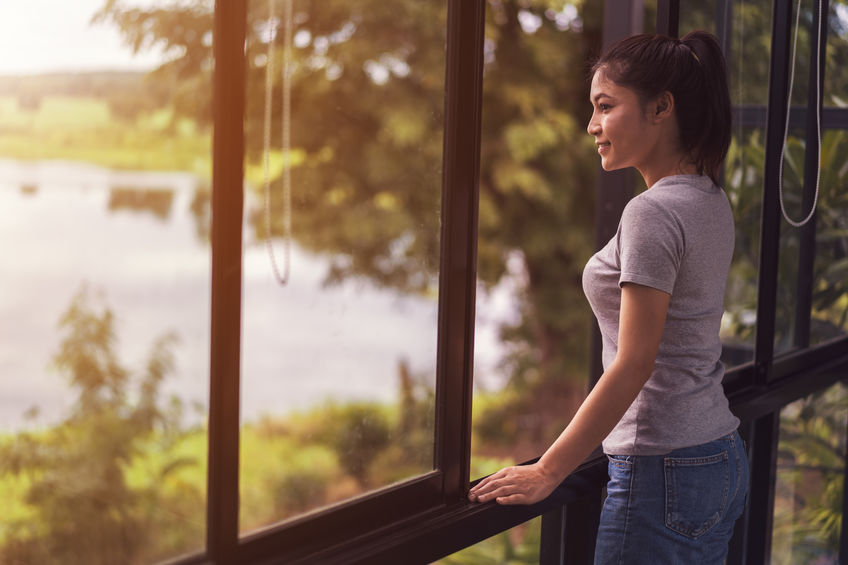 Waking up in the morning, throwing back the curtains and seeing the water — that's why you bought your lake home. As such, you want your house to pay homage to its rustic surrounds by designing a kitchen that fits with the landscape. Country style always goes well with a house set amid the beauty and warmth of nature.
Of course, decorating a space so that it evokes a theme isn't always easy. To make the process easier, here are six tried-and-true tips for designing a country kitchen that'll fit right into your lake home:
1. Choose Colors Wisely
You don't want your country kitchen to be too boring, nor do you want it over the top. So, you must be smart about the color palette you choose. Most country kitchens have white as the focus color, but they branch out with subtle accent shades.
For instance, you might choose a white stone for your countertops while opting for cabinets painted in a more saturated hue. You could also choose colored appliances or backsplash tiles to give your space that country feeling.
Are you unsure what your accent color of choice should be? Fortunately, design experts have already pinpointed what will be next year's trendiest shades. The Pantone color report for 2020 inspire your choices if you don't already have a hue in mind.
2. Swing for the Farmhouse Sink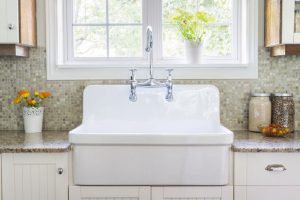 When it comes to country kitchen must-haves, you can't design any such space without a farmhouse sink. The apron-style basin looks as if it drapes over the front of your cabinets, creating an eye-catching design feature. Plus, it'll be large enough to handle all the dishes that family gatherings and parties generate.
Most of the time, farmhouse sinks come in shiny white porcelain, but you might be able to find different materials or colors to suit your kitchen's style.
3. Furnish With Classic Pieces
A stainless steel fridge with a touchscreen monitor on the front may look cool in a modern kitchen, but that's not the look you're going for in a country-style lake house. You might want to consider purchasing appliances with more traditional styling instead.
Then, think about your table, chairs and other crucial kitchen pieces. A classic farmhouse kitchen usually has a long, welcoming table. This might be the perfect choice if you're fond of guests and love the idea of serving family-style dinners.
4. Consider Traditional Styles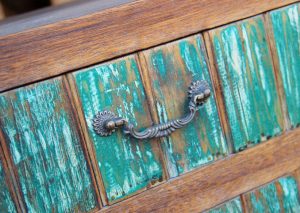 Next, consider the textures present in your kitchen. Classic elements of country style include distressed wood, lace and wicker. You can seek out lace table runners for your farmhouse table or hunt for chair cushions made with gingham. Wicker side tables or baskets can serve as useful storage while contributing to the classic look.
You can dress up more than the kitchen table, too. Copper cabinet pulls or faucets will help your kitchen hardware look more country. These accents also help make your kitchen feel warmer and more welcoming.
5. Dress It Up With Antiques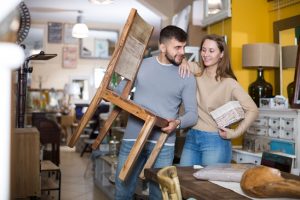 The whole point of country design is to make your home feel cozy and lived in. Even if your lake house kitchen is brand new, you can make it feel just as rustic and warm as you want with some careful decoration.
One way to accomplish this is to decorate with antiques. Pick up a wall clock, knickknacks, art or any other item that screams "country kitchen" to you. This is a great opportunity to check out local antique shops and find great, classic pieces at bargain prices.
6. Display Your Dishes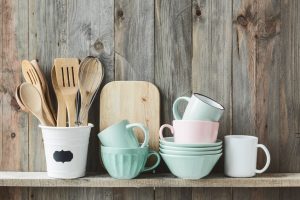 On a similar note, a country kitchen isn't meant to look pristine and perfect all the time. Instead, create a lived-in aesthetic that's perfect for the heart of your lake home. No need to hide away all your dishes, glasses and other culinary accouterments. Instead, find ways to display them in your kitchen.
For many country kitchens, this means swapping a few upper cabinets for open shelving. You can artfully stack some dishes, bowls and glasses on these tiers. Plus, it's an easy DIY project for handy homeowners.
Or, you could swap out cabinet doors for a glass panel, which will also show off your stacked wares. There are plenty of ways to get creative — you could install hooks from which you can dangle your coffee mugs. The same goes for your pots and pans, oven mitts and any other kitchen tool that you want to display.
Country Style in Your Lake Home Kitchen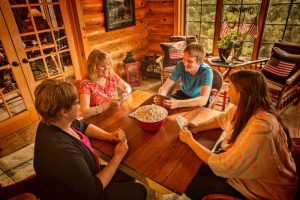 The kitchen's the heart of the home, and your lake home is where your family loves to gather and make memories together. With the above tips, you can transform your space into a cozy country kitchen, the perfect backdrop for the unforgettable moments that are sure to unfold at your lake house for years to come.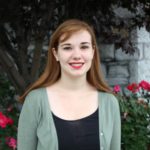 Holly Welles is a writer and decorating enthusiast. She shares tips on home improvements and design for homeowners on her own blog, The Estate Update. She's also a regular contributor to industry publications including Build Magazine and Today's Homeowner.