by Chet Nosalik, Reel Lamps
Decorating your lodge, cabin, log or traditional home with a rustic theme offers you the opportunity to add charm and natural elements to your space. Rustic-themed light fixtures – whether crafted from wood, copper, brass or even more interesting materials – add a visually appealing, yet organic feel to a home.
Including rustic lighting in your favorite space, no matter where it is, creates an environment far removed from an often-hectic lifestyle. Who wouldn't want to come home to the same relaxing atmosphere you prefer during a vacation in the woods or a weekend hunting or fishing? The type of lighting you choose not only enhances your décor, it adds warmth and personality to any room in the home.
Chandeliers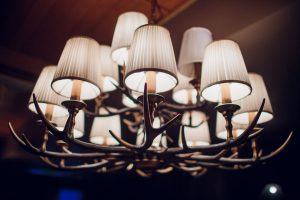 No light fixture makes a statement like a chandelier. These items are especially popular in rustic-themed homes. Chandeliers create stunning focal points in living and dining rooms or in homes with open floor plans.  If you've got the space to go dramatic, such as with a cathedral or vaulted ceiling in a great room, go for a large, striking light fixture that will cast a warm glow over the entire room or area.
Smaller versions of these light fixtures are perfect for smaller areas such as hallways or foyers. While chandeliers made of original or faux antlers are popular and always eye-catching, others handcrafted of natural tree branches, wrought iron and vintage re-purposed lumber are also unique.
Ceiling Fans and Fixtures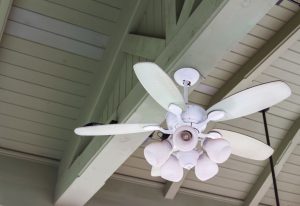 If you don't have the ceiling height for a chandelier, flush mount and semi-flush ceiling fixtures and fans can be every bit as rustic and unique. Luckily, there is no set standard when it comes to rustic lighting. Some rustic features to look for in an overhead fixture include wrought iron, opaque or smoked or glass, animal, Western, hunting or fishing motifs, leather accents and candle-style bulbs.
A ceiling fan and light fixture combination can also create a rustic statement piece while serving as a functional component of your home's décor. Make sure the fan blades present a low profile so as not to distract from the motif or unique design or materials of the light fixture.
Floor and Table Lamps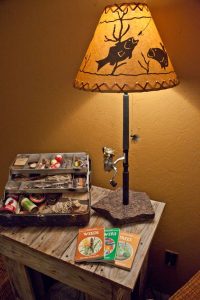 Rustic accent lamps are an exceptional way to add even more visual interest to one or more rooms. Choose lamps constructed of metals or natural materials and motifs that feature natural elements such as leaves, trees or plants. Western and animal motifs also add great rustic touches. If you have an avid angler or bow hunter in the family, consider one of more custom floor or table lamps made from treasured but unusable fishing poles, fly reels or arrows.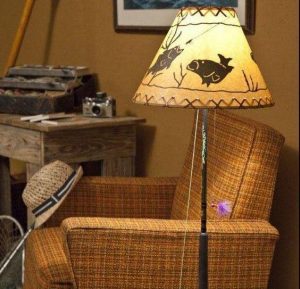 Reel Lamps knows first-hand that the saying, "One man's trash is another man's treasure," Is true. The company creates one-of-a-kind floor and table lamps out of discarded fishing gear. Unwanted or broken freshwater or saltwater rods, reels, old lures and scraps of granite are cleverly repurposed into creatively themed lamps. The company also provides clients with the option to create their own custom lamp designs from their own equipment. Reel Lamps also offers faux oil kraft lamp shade with top and bottom lacing in a variety of sizes, featuring hunting, fishing and animal motifs.
Pendant Lights

Kitchens, especially those featuring a seating area, bar or a central island, are the perfect areas for rustic pendant lights. Hanging lights from a ceiling to within a few feet of a prep, dining or entertainment area is practical, yet also another opportunity to expand on your rustic theme. Consider choosing pendant lighting that features bands of wood, cast iron, leather or brass, along with vintage-style, opaque glass.
Wall Sconces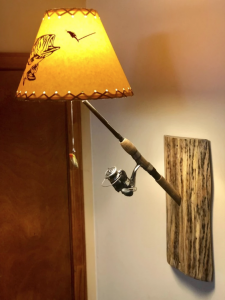 Sconces not only add rustic charm to log walls or long hallways, they make a definite statement when framing a vintage wood-framed mirror in a bathroom. Custom shades featuring nature or animal motifs, wood or metal framework or refurbished antique lanterns mounted on reclaimed pieces of lumber all scream rustic.
Reel Lamps doesn't limit its creativity to floor and table lamps. The company also offers a unique variety of rustic wall sconces that will enhance the décor of any home, lodge or cabin. Each design Is mounted on an unfinished natural lumber plaque. Depending on the model, each sconce includes part of a fishing rod, a reel and a rattle trap, jig, bobber or popper.
Lighting for Trophies and Collectibles
Don't forget to include smaller lighting fixtures for your prized hunting or fishing trophies, antique collectibles or artwork. Thanks to the growing popularity of rustic décor, many lighting centers and stores that sell outdoor and sporting gear might carry exactly what you're looking for. If you prefer authentic vintage options, try architectural salvage shops and antique stores.
Rustic lighting is far more than an antique carriage light by the front door – it sets its own mood and level of tranquility inside your favorite space as well.  Installing several types of rustic lighting in your home will only increase the relaxed ambience you're looking for.

Reel Lamps was created in December of 2012 by Chet Nosalik with a design patent filed in January of 2013. Chet wanted to create something unique that captured the attention of fishing enthusiasts around the world.
Reel lamps unique fishing pole lamps are created from landfill-bound fishing gear; broken rods and reels, old lures, and granite scraps. Reel Lamps is the perfect example of the old saying " One man's trash is another man's treasure" The company's creativity continues to amaze anglers around the world by providing many species of fish themes both saltwater and freshwater.
Custom designs are also welcome. Reel Lamps has designed and built many lamps from clients memories and equipment of lost ones.