by Lana Hawkins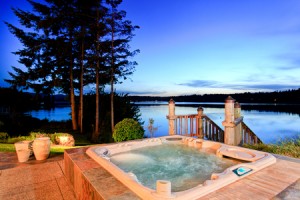 The philosophy of cabin homes is simple – people own them so that they can have a place to rest, relax and dedicate some time to themselves far away from the everyday life. That is why they need to be as comfortable and cozy as possible, which is something not many owners take into consideration when decorating them. Some cabins get packed with an abundance of modern and trendy furniture and are turned into something they should not be. But, for those wanting to preserve the original look of their cabins, there are a couple of things that can be done in the bedroom that will make the entire cabin get that rustic appearance they yearn for.
The Overall Look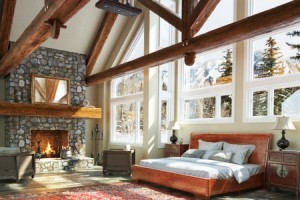 While the focal point of your cabin bedroom should, of course, be the bed, keep in mind that this is not the only thing in there. Bedrooms offer you a ton of chances to be creative with the nightstands, bedside tables and lamps, as well as cupboards, drawers and closets where you keep your valuable items.
So, if you wish to create a compact bedroom, you should pay attention to the overall look you are trying to achieve. Not every single piece of furniture has to be rustic, but the most important pieces do. You can even make some of the smaller pieces, such as a nightstand, on your own, and get a rustic home-made look you cannot find in store-bought furniture.
The Headboard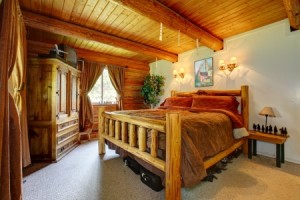 If decorated properly, the bed frame and the headboard will undoubtedly be the first things you and your guests notice upon entering the bedroom. Big and comfortable beds need strong and supportive frames and headboards, and these items give you the perfect chance to get that rustic atmosphere into the bedroom.
There are generally two ways you can accomplish this – by various decorations and by building your own headboard. Should you go with the first option, you can add some thick fabric or even leather to it, spiced it up with a couple of buttons or fillers, attach Christmas or LED lights onto it, or, ultimately, give it a new paint job. But, if you are handy and wish to practice your DIY skills, you can create a rustic wood headboard from scratch– it will take some time and effort, but will certainly be worth the investment.
The Bed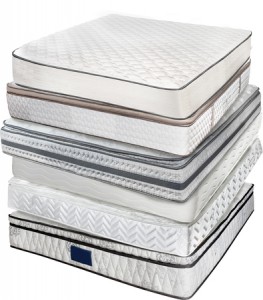 Now, this is the centerpiece of your bedroom and the spot where the magic happens – the magic being all the sleep and relaxation from the outside world you wish to get in your cabin. This bed is supposed to be different from the home bed you use every night and should be, if possible, even more comfortable and soothing. Therefore, most people have a tendency to equip their cabin bed with a quality king single mattress that ensures hours and hours of uninterrupted sleep.
Besides the mattress, you need to think about the bedclothes as well. As you will probably not be using your cabin that often, the sheets do not have to be too expensive, but you still ought to make a smart choice when purchasing them. Make certain they are cotton-based and, if you really want to get that rustic feeling in your bedroom, pick the ones in pastel and earth tones like red, green, yellow or brown.
Blankets and Pillows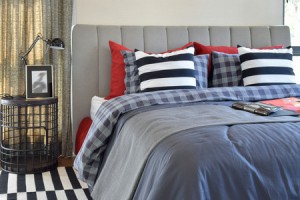 Speaking of bed decorations, do not forget blankets and pillows! They come in various shapes, sizes, textures and patterns, so they can be personalized and adapted to whichever style you have going on. Moreover, bright pillows will soften the hard tones of a rustic bedroom and add some color to it. Finally, you can buy extra pillowcases and change them every time you arrive to your cabin, thus making it always new and exciting.
Be Proactive!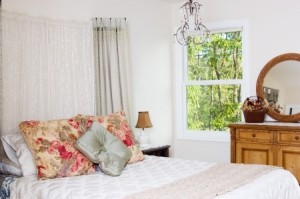 Cabin bedrooms are full of potential, but not all owners know how to make the most of it. Instead of going with the flow and being satisfied with your bedroom's basic look, you can take matters into your own hands and create the look you want. Adding a few bonus pieces – a settee, a refurbished chandelier and new curtains, for example – will definitely get you there and allow you to spend some quality time in your rustic bedroom.