by Mary Mathis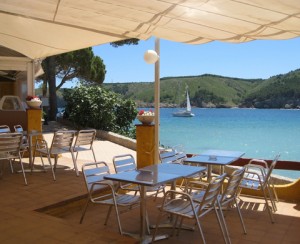 Some people gravitate more towards the idea of exploring the outdoor space outside their house and getting the most out of it. Whether it is barbecue or sitting by the fireplace outside the house or creating a shade under which to indulge in the pleasurable moments. For those who are fond of having great time having lunch or breakfast outdoors, such personalized atmosphere means living life with delight and joy. Because of this special requirements, modern families choose to own the kind of properties that provide good chunk of space outdoors where they can build outdoor awnings to make the inside-the-house environment comfortable and cool.
Awning is the best way to add decorative elements to the external beauty of your house as well as to give rise to functional space. Knowing the exact use and installation of awning, you can learn to enhance the existing style and look of your deck and patio as well as enliven the space outside so that you can enjoy your domestic life having fun.
But how would you choose the suitable awning that is perfect for your property? Here are some of the factors that will impact your decision making for buying outdoor awnings:
Flexible or fixed awnings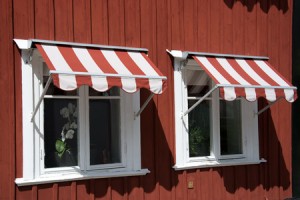 Fixed awnings can prove to be more suitable for windows and doors but they don't come with the option of changing its projection. On the other hand, retractable awnings can be extended as per your requirement and work well for decks and patios. It allows you to get great control on sun and shade. Now a day motorized awnings are also available that offers amazing flexibility you need to maintain the spread of outdoor awnings. This kind of mechanism makes it easy for you to manage shade since all you need to do is to touch a button from inside or outside your home to extend or retract the awning structure.
Fabric material and colors
Most commonly used materials preferred for awning outdoors are polyester, cotton, laminated vinyl, acrylic, and more seen polyester fabric. They go really well with the support structure made from iron, steel, aluminum, or even well-processed solid wood. Upon getting installed on the wall, it can be stretched over this tough structure to achieve a perfect shade. Some outdoor awnings are made using canvas, or in combination of aluminum.
Awning mounting positions
The usual spots where awnings are installed to your house are exterior wall, visible rafters or directly to the roof. To achieve the solid structure and avoid any scope of structural vulnerability, if it is for the larger size of awnings, you need to mount it on stronger frameworks so that it will perfectly support fabric weight. Regardless of position of fixing, make sure mounts are properly positioned and clung to the wall surface or roof and can endure overall weight of canopy.
You want it to be Mechanical or Manual?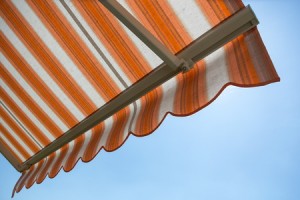 After considering all other choices, there comes the functional part of outdoor awnings. The mechanism of awnings device management depends on two types: Manual and mechanical. The manual one will comfort your pocket since it comes with lesser cost than motor-based arrangement. The manual structure is easy to install on the deck or patio and can be controlled by human efforts, which is something not every house owner desires. The motorized functioning costs you a little more and it does not require vertical support. It is based on lateral arms which can be operated through electric motor situated under the roller bar. Motorized devices have controlling electric switch, or better, a remote control system.
Energy saving? Yes, of course
To your surprise, outdoor awnings built right outside your property can save the considerable energy and cut you a good slice from your monthly bills. As you install the device, you will begin to feel the pleasant rush of fresh air flowing into your house as it allows you open the windows and doors even in harshest summer. Awnings protect your house from harmful sun rays and saves you the need to use air conditioning devices for long hours. Choose those with light or maximum whiteness as it has more ability to reflect sunlight and maintain optimal temperature inside the house.