By Mark Simon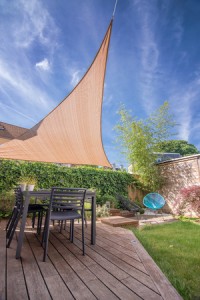 When you think about making the most of your patio area, terraces, balconies, or even your outdoor garden, you immediately think of sail shades. In fact, a lot of cafes and restaurants opt for sail shades instead of big umbrellas because they provide a lot more protection from harsh sun while being aesthetically pleasing as well.
Application of sail shades installation
Sail shades are available in a whole different variety of colors, designs, and fabrics. For instance, if you are living in an area that gets a lot of harsh sunlight for most part of the year, you can opt for a white sail shade that can reflect all the heat. Similarly, if you want to block out most of the sunlight, opt for a sail shade made out of canvas cloth. It is great for outdoor events such as parties and conferences too. When it comes to use of sail shades installation, there are many.
To protect against UV rays
Good quality sail shades when installed right can block 95% of harmful UV rays. UV rays can damage your skin and can even increase the risk of cancer substantially. However, make sure you measure the area to be covered correctly before you order sail shades installation.
As an aesthetic element
While protecting you from the harsh sun, sail shades can also be used as an aesthetic embellishment. Use a combination of sail shades in different materials or designs, and make an architectural design that acts as the focal point. This kind of sail shades installation actually works very well for terraces and balconies.
To increase the utility of your patio and swimming pool area
Many times, you get that fancy swimming pool made but you barely get to use it, because the sun is too harsh most times. With correct sail shades installation, you can actually host envious pool parties during the summers, or just spend a lot of alone time outdoors.
Benefits of sail shades installation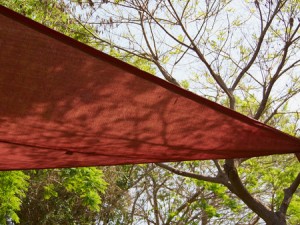 The biggest benefit of this handy piece of design accessory is it blocks out harmful sunlight from a large area in one go. That's why, many times, you will see restaurants and cafes opting for sail shades for their outdoors rather than installing umbrellas.
Other than their protective feature, quality sail shades are also very durable. When you buy sail shades from a trusted dealer, you can be rest assured they will last a long time. Easy to maintain, cleaning them isn't too much of a hassle.
While all of that may make you think they can be expensive, the truth is sail shades are really affordable. In fact, most times, you don't even need a fancy combination of sail shades in pretty colors. Something in neutral colors like brown or white does the job, and buying those kinds of sail shades isn't too heavy on your pocket.
Things to keep in mind during sail shades installation
While there are numerous advantages to sail shades installation, it is important that you keep certain things in mind to reap those benefits:
Measure the area properly from end to end. Sail shades are often custom-made, which means you cannot ask for a refund in case they are made wrong because you gave the wrong details.
Find the right fabric for your shades. For instance, if you want almost complete blockage of sunlight, for instance, for an outdoor event, you go for canvas cloth than something more trendy. Similarly, go for a translucent fabric if the sunlight in your city isn't too harsh most times.