by Chloe Taylor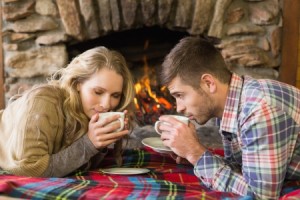 Cabins by the lake are a perfect opportunity to immerse in pristine nature, but also to rewind sitting comfortably in your shelter, snuggling up a pillow and holding a hot cup of tea. A low square footage does not have to undermine the level of interior enjoyment. To make the enchantment happen, merge appealing aesthetics with smart design, and witness the transformation of your small haven. You want to make the most of the present space, without sacrificing comfort and visual bliss.
Gain ground
An intimate, enclosed space can also be comfortable and practical. Namely, there are many tricks that infuse your environment with the illusion of spiciness. It goes without saying that you need to do away with clutter, but you can also harness the power of colors. Avoid dark hues, and stick to lighter tones for a sense of openness. When it comes to furniture, follow the same logic. And to throw a colorful punch, select one wall to act as a focal point, and paint it in a different color or use wallpapers. Also, one may achieve a visual impact with exposed beams and woodwork.
Zero waste policy
The rule number one is that no space should be wasted in a cabin. For example, many people overlook that additional storage can be obtained with shelving unit placed beneath the stairs. In case they are adjacent to the kitchen, you may also turn this space into a mini bar or a pantry. Keep your eyes open in between floor levels, and use the walls to your advantage. Moreover, you can employ versatile solutions such as curtain dividers in order to visually separate two spaces or put a full-body mirror with natural draperies to expand the space.
Domestic hub
In the living room, pay attention to details like window treatments. Those who have high ceilings, but a small floor plan should pick floor-to-ceiling curtains and cushions. This draws the eye up and emits a larger feel. Furthermore, try to get your hands on a table with an adjustable base. Such a piece lets you instantly shift from a lounge area with a coffee table to a dining area. At last, invite the natural blessings inside: Strive to establish a strong connection with the beautiful surroundings, and enable a flow between indoor and outdoor space.
More than one purpose
Multipurpose spaces are a blessing for any spatially-challenged cabin. For instance, home office and guest bedroom should sometimes occupy the same space. Indeed, many people need an area dedicated to work. It can be a whole home office or just a desk paired with an ergonomic chair. I have managed to find many great pieces of office furniture in Sydney, so research local offerings as well as online shopping opportunities. In any regard, for a small cabin, it makes more sense to turn one corner into a zone of productivity. It can fit in between two closets, or in an empty section of the bedroom.
Bathroom makeover
With right décor choices, you can make even the smallest of spaces appear larger. A killer visual effect can be summoned with a combination of simple, bright walls and floor tiles with intricate details. For a nice lake-house appearance, install an oval-shaped sink, and maximize the counter space. Also, you can go for a washstand with towel bars integrated, not to clutter the space. A small, leggy table provides space for utensils, while built in shelves have enough storage room for everything else. With much space saved, you can even opt for a big tub, and melt your stress away like never before.
The inner beauty
Comfy cabins are a true blessing, especially when situated by the spellbinding natural marvels. But, we also want to feel good when dwelling inside. So, treat yourself with a small abode packed with comfort and various amenities. Add visual bliss and much-needed functionality to your space. Make each piece of furniture earn its keep, evoke mirror and color magic, and do not neglects a single room. Be serene as a mountain lake in midnight, and enjoy the small-space living at its best.