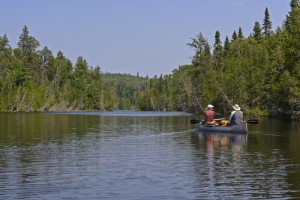 For people who love the idea of living on a lake and enjoying a variety of outdoor activities, it's hard to imagine a more perfect location than Lake Superior. In particular, the North Shore is chock full of things to do. If you are contemplating a move to the Lake Superior area, here are some outdoor activities to look forward to.
Hiking
The North Shore area has amazing hiking opportunities, including the 256-mile Superior Hiking Trial, which you can tackle in any distance you wish. In addition to great views of the lake, you can check out birds, wildlife, a variety of plants and geologic formations along the way. North Shore is also home to eight state parks that have great hiking trail systems, including shorter loops, in case you have a kiddo or two or a hiking newbie keeping you company. Examples of accessible hiking trails in the area include Sonju Trail in Two Harbors, Harbor Walk in Grand Marais and High Falls Trail at Grand Portage State Park.
Hunting
The Lake Superior area is a popular spot for duck hunting, as it is home to waterfowl like bluebills, buffleheads and ring-necked ducks. Skeet and target shooting are also recreational activities in the area. Whether you are an experienced hunter or getting into the sport for the first time, you will want to make sure you have right gun. Finding the best firearm is easy, both new and used guns can be purchased online or at local outdoors retailers.
Canoeing and Kayaking
If getting out on the open water is your dream recreational activity, Lake Superior is an ideal place to be. You can either bring your own watercraft or rent one from a local outfitter. If you are unsure of where to paddle, the staff at the outfitter can give you ideas and tips, as well as any needed permits to head into the wilderness.
Camping
The Circle Tour of Lake Superior is easily one of the most memorable trips you can make in the region. The entire tour goes on for 1,300 miles, so you might want to break it down into smaller chunks, but along the way you can find ample waterfalls, beaches, kayaking opportunities and lighthouses to admire. While some people tackle some or all of the Circle Tour by making motel reservations along the tour, it's also a great opportunity to camp. You can traverse the route by car or motorcycle and pack all of the gear you need. If you decide to camp, be sure you make your reservations ahead of time; for example, during winter or spring for a summertime excursion. As far as the best times to camp your way around the lake, late May and June are often the least crowded and rates are more affordable. If you want to combine incredible fall foliage with your camping, head out near the end of September or beginning of October — but be advised that by this time of year the weather will be turning cold.