by Lee Flyn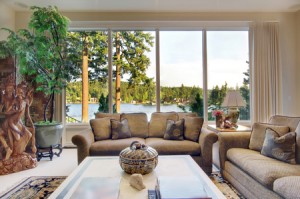 Luxury and elegance go hand-in-hand as partners in a fabulous vacation experience. If you own your own vacation home but want to make some changes so that it becomes a showstopper, a few tips from the pros can help you take your vacation cabin to the next level of style and elegance.
Evaluate your needs.
First, think about what will make your cabin truly magnificent. Does it need some walls taken down or windows enlarged to maximize views? Do you need to add amenities that you and other guests may not have at home such as a sauna, hot tub or swimming pool? What parts of the cabin need a complete overhaul and which areas need more simple decor changes?
Hire professionals.
Seasoned professionals in your area know what are the best finishes, colors, preferences and more for your market. They also will tend to get the work done faster so that you can enjoy the property yourself or rent it out even sooner.
Focus on bathrooms and kitchens first.
Just as in your primary residence, focus on bedrooms and baths for some of your biggest and most important design and decor projects. For a bathroom, it may mean anything from grout cleaning to remove mold and a new coat of paint to a total demolition of the space. If you're starting from scratch in the bathroom, consider upgrading countertops, getting professional tiling done and inserting high-quality light fixtures.
With most of today's vacation rental research being done online, you want your home to stand out, and nothing is more off-putting than an outdated kitchen. Invest in high-quality appliances that can stand up to lots of wear and tear. Add in lots of cupboards, a kitchen island, good lighting (can lighting and decorative task lighting), high-end countertops and elegant flooring, and you've got a recipe for a stunning kitchen.
Focus on master bedroom and communal spaces next.
You and your guests come to a vacation home to relax, so the master bedroom should be a showpiece of style and comfort. Light, neutral paint always looks high-end, and a fresh coat of paint on molding and millwork is a fabulous investment. Upgrade to high-quality mattress, linens, pillows, flooring and furniture in the master bedroom and wherever else you can afford it. When considering updates to your communal space, having a professional provide floor refinishing services can truly take your space to the next level.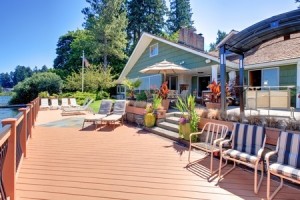 Take curb appeal seriously.
Decorating and keeping up the outside of your property are hugely important for positive first impressions. Replace a mossy roof, exchange damaged siding for natural stone and repaint a dingy porch or patio. Adding some seating with a bench or rocking chairs along with potted plants, painting the front door or a adding a window box full of flowers adds instant curb appeal. Don't forget flowerbeds, trees and shrubs, walkways and driveways. Keeping these areas in tip-top shape throughout the year are keys to maintaining a showstopping property.
Invest in final touches to give a sense of sophistication.
Hardworking yet refined leather furniture (white, natural or colorful) can give a vacation cabin everyday elegance. Work in twos to retain symmetry and balance, whether it's side tables, lamps or chairs. Neutral furniture, flooring and wall colors easily showcase pops of color throughout a room. Even layering rugs can both warm up a room and accentuate beautiful features. For walls, look for decor in unexpected places like flea markets, tag sales and thrift stores. If it speaks to you, it probably will be easily relatable for others. Don't underestimate the power of green as well. Small plants and fresh flowers placed throughout the cabin are everyday luxuries that everyone appreciates.
Welcoming friends, family and other guests to your vacation home should bring you joy as you focus on giving everyone a fun and comfortable yet luxurious sanctuary.