by Lana Hawkins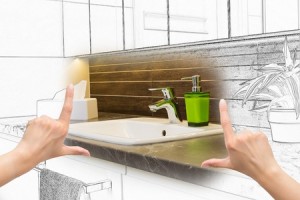 Having a getaway location where you can escape from your earthly troubles and indulge in the relaxing sounds of nature and marvellous sights of your surroundings is something that everybody desires. Of course, owning a remote cabin isn't just sunshine and roses. These humble pieces of paradise require a lot of maintenance and investing, especially if you're thinking about selling the property one day. The bathroom area is one of the main priorities when it comes to big renovation projects, but contrary to popular belief, it doesn't necessarily have to cost you a fortune. If you're looking for easy and frugal ways to do a cabin bathroom makeover, these few things should be on the top of your list.
Consider Your Style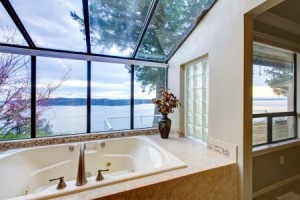 The first and by far the most important thing before starting any major redesigning project is to create a plan and stick to it. This plan should consist of a thorough budget analysis but also of a complete design style. It's really important to consider what kind of style you're aiming for, as contrary to what most people believe, cabin bathrooms don't necessarily have to exude with that rustic and rural vibe. Depending on your personal preferences, decide on a style you enjoy and create a budget that will work for you.
Add A Splash of Colour


By far the most effective way to transform your bathroom space is to give it a fresh coat of paint. Depending on what look you're trying to achieve, you just might want to opt for neutral colours that work with any bathroom style. This is also a good option in terms of major maintenance projects or if you're considering selling your cabin in the future. If you're feeling bold, you can always create an accent wall by implementing some unexpected materials, creating a mosaic or adding wall cladding.
Go Green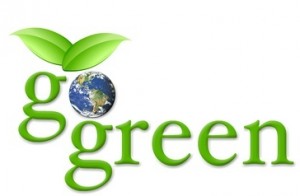 Considering the possibility that your secluded getaway haven is quite possibly a true natural splendour, it would only be fair to adopt certain green methods into your redecorating project. Not only will this help the environment, but it can also greatly help you conserve water, energy and money in the process. This can be done quite easily by installing low-flow shower heads or opting for dual-flush toilets. You can also choose to work with sustainable materials in your bathroom: such as bamboo, cork and linoleum or even opt for a classier finish with glass tiles or reclaimed wood.
Upgrade The Fixtures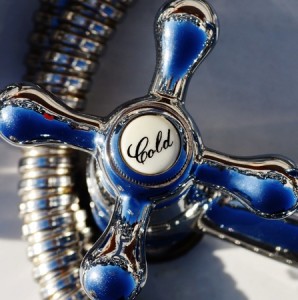 One of the best ways to freshen up your bathroom without actually breaking the bank is upgrading your existing fixtures, instead of purchasing brand new ones. Replacing your light fixtures can create a wonderful ambience in the bathroom, while upgrading your shower, sink and hardware fixtures can greatly transform the complete style of the bathroom. There are also some other simple upgrades you can do which don't require much time nor money but can greatly affect the overall appearance of the space. For instance, make sure to fix and repair any leaks, severely blocked drains or dripping faucets that can cause a great deal of mess. Also, don't overlook your tiles. Instead of opting for a complete new flooring, you can make a huge difference simply by freshening up the caulk and the grout.
Add Ambience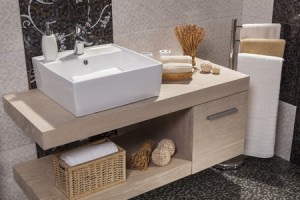 Lastly, you'll want to transform your cabin bathroom into a true soothing sanctuary. Achieving this spa-like look doesn't require much money nor effort and can easily be achieved through a few simple hacks. Scented candles, incense stick in combination with some relaxing music can greatly help you achieve that tranquil vibe. Introduce some plants, implement some natural light and add a personal touch to the bathroom. If you're feeling frisky, you can always opt for a massage tub or even a Jacuzzi to enhance the mood.
Planning any kind of redecorating project isn't a minor thing; this is why it's really important to carefully plan out what you're trying to achieve in this venture. Of course, once you create a proper plan, you'll realize that you can easily transform your bathroom area without losing too much time and money.