by Chloe Taylor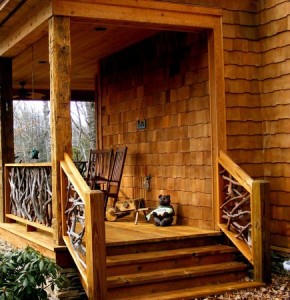 When you first built/bought your cabin, it was perfect for you. Still, with time, you might have realized that something is missing. This is not the end of the world, though. You do not have to go through the nuisance of buying a new lake house to find the right size and function – you can simply upgrade your old one. However, it is not all that simple. You have to find a way to add on without compromising the style and the design of your cabin, choose the right contractors and perhaps roll up your own sleeves. Here are a few tips that will help you master these challenges.
Build Out or Up?
One of the first dilemmas you will face is whether you should build a second level or add space onto the main floor. When it comes to this, there are no easy answers. Although building out is much more affordable and easier, however, if the terrain outside your cabin is not favorable or you have some other issues on the main floor, you will have to build up. Building a second level will require staircase and removing the roof, and you will need to check the endurance of the foundation. An extension on the main floor is similar to building the house from the scratch. You will have to make the new foundation, walls and access to the main part of the house.
The Issue of Consistency
It is just like adding a piece of fabric on an old t-shirt – it can work out fine, but it can seem inconsistent and different from the rest. The logs of your cabin had years to shrink and settle. If you were to choose fresh logs with similar joints for the new part of your cabin, in several years they might shrink and appear incoherent. A possible solution is to set posts on their meeting points, and attach the new logs to these posts instead of attaching them directly to the old ones. Aged logs are darker than the fresh ones. Use Professionals from Sydney build extensions even with logs siding over structural insulated panels or conventional framing, because they contain less moisture.
Are the Bearing Walls Involved?
Altering a bearing wall will, without a doubt, require hiring professionals. If such an issue is not treated carefully, you might end ruining your cabin. If you are unsure about where exactly are your bearing walls, you should call a professional architect. Usually, the bearing walls are the ones on the outside of the cabin, but that doesn't mean that there are no bearing walls on the inside, as well.
Marrying the Old and the New
Matching the old and the new logs (even when you are using log sidings) can be tricky. It will be crucial to find the right log species and match the log diameter. Try to get around this problem by using other materials, instead of wood. Incorporating the stone into the design can create an interesting contrast, while not compromising the rustic feel of your cabin. Once the extension is finished, you can start decorating the space, making it harmonic with the rest of the décor. Use similar colors, fabrics, incorporate the same area rugs and other accessories.
Tackling the Paperwork
Tackling the paperwork is something you should do at the very beginning. Before you start anything, you will need to check the building regulations and requirements with local building officials. It is highly likely that you will need to acquire a regular building permit, but you might also need specialty permits, such as footings, plumbing, electrical and foundation. Your local building officials might ask you to submit blueprints and structural drawings, as well. You can make the blueprints yourself and take them to an architect or a licensed engineer for approval, but it would be best to hire an architect from the get-go because he can recognize unexpected possibilities or potential pitfalls.
As you can see, there is no reason to move out of your beloved cabin if you feel it lacks space. Adding an extension that will meet your needs is neither easy nor cheap task, but it is quite rewarding, especially if you compare it to buying a new cabin.