By Lana Hawkins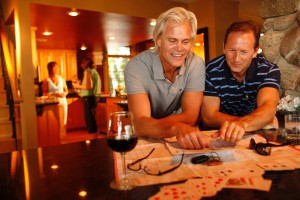 We all yearn for that secluded getaway, somewhere away from all this pressure and struggles of daily life. Someplace remote, comfortable and serene, a so-called sanctuary in the form of a log cabin, located deep in the woods. Of course, whether it's a weekend getaway location or your current residence, it's important to design a convenient space that will provide both function and pleasure. The kitchen, as one of the prize possessions of any space should always be a top priority when it comes to redesigning projects. So if you're looking for ideas on how to design a suitable kitchen for your cabin space, you have come to the right place.
Style It Up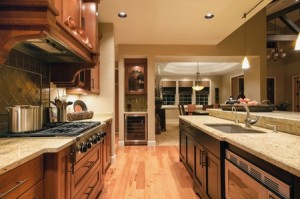 Contrary to popular belief, designing a proper kitchen area does not require a professional and can easily be managed on your own. A perfect kitchen area should meet two basic design goals: style and functionality. The type of design you're going to apply depends completely on your personal affinities. Of course, the two most common types of kitchen designs are definitely the traditional rustic look and the distinctive appeal of the contemporary design. A stylish kitchen is a necessary component of every space, but it is also one of the best ways to increase home value, if you are planning to sell.
Rustic Appeal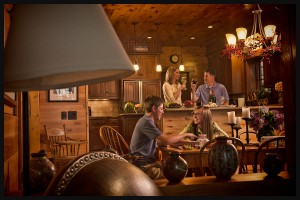 For those who enjoy the simple pleasures in life and would like to experience the true essence of the countryside, the rustic kitchen design is one of the most favorable options. The use of rough, natural materials prevails in the room, especially the use of wood. The earthy tones are used to give the space a warm and gentle feel, while the copper cookware and planters complete the whole image. A farmhouse sink and the presence of medium tone wood cabinets are enough to create a cozy rustic ambience for those friendly and family gatherings.
Contemporary Design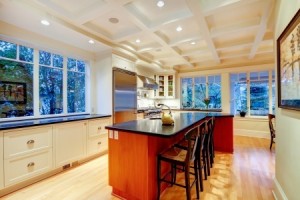 A complete contrast to the everlasting charm of the rustic design, the modern twist of the contemporary design truly gives a kitchen that sophisticated touch. It's a perfect option for those who enjoy a more practical and modern approach to the kitchen area. The contemporary design is mostly focused on creating a clean, sterile environment with the use of neutral colors like black and white. The best way to achieve this look is to think minimal, avoid too much decoration and focus on the practical part rather than comfort. The materials used are quite sterile and focused on stainless steel, concrete, chrome and laminate.
Make It Functional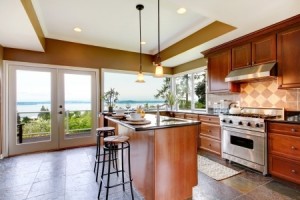 In the end, whatever style you choose for your kitchen space, the main goal is to make it functional. A kitchen should always serve its purpose and there are certain guidelines on how to get the most out of this space. A U-shaped kitchen design is a great option as it gives you an appropriate amount of space while keeping all the essentials within a hand's reach. Clever storage solutions like a two-tiered carousel is a good way to keep all your things in check without over cluttering the cupboards. Another thing to keep in mind is that appropriate illumination is key for a functional kitchen, so make sure to install quality lighting in all the necessary places. Of course, a kitchen is completely dependent on its appliances. So, the best solution is to visit some appliance stores in order to find quality equipment that will be suitable for your style and taste.
Designing a suitable kitchen for your cabin does not necessarily have to be time consuming and difficult. The key is to create a plan based on your personal needs and desires and actualize the idea step by step. Try to create a kitchen space that will work for you and your loved ones. If you succeed to block the unpleasant scenes from the movie with the same name, you will see that a cabin in the woods can become a true paradise location.