By John Back
Grilling Season is Here!  F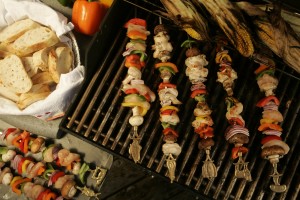 amily get-togethers at the lake are a great time for finger-friendly food—less to wash, less to throw out, and much more fun to eat!
With a little imagination and prep time, your 4-course kabob meal is the perfect solution for a quick and easy lakeside feast! Here are some tips and tricks to get you started:
Soak wooden skewers in water for 30 minutes before using them so they won't burn during cooking.
If you prefer metal skewers, which have a long life, use square or twisted types, which will hold the food better than round ones.
To keep food from slipping off during cooking and turning, use two parallel skewers rather than a single skewer.
If you're using a wooden skewer, as you thread the food move the pieces close together, with no space showing. If the skewer is metal, you can leave small spaces between the pieces.
When using foods with vastly different cooking times (such as shrimp and beef), don't combine them on the same skewer.
Grilled Bacon Wrapped Asparagus Kabob
Asparagus with trims cut off and cut in half
Thick Cut Bacon
Olive Oil
Parmesan Cheese
Skewers – use short skewers, or cut long ones in half
Cut the ends off of your asparagus and then cut in half. Wrap a piece of bacon around each asparagus piece and place on pan face down. Sprinkle with olive oil and Parmesan cheese. Place 5 pieces of wrapped asparagus on each skewer. Grill until Bacon is cooked.
Antipasto Kabob (cold)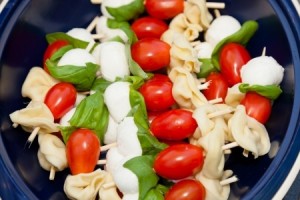 1  9 oz package of Three Cheese Tortellini, cooked to package directions
1 can Medium pitted Black Olives, drained
1 jar Green Olives, drained
2 packages Marinated mozzarella balls (or sliced, fresh mozzarella)
30 salami slices, cut in half
60 pepperoni slices
1 cup Balsamic Vinaigrette Salad Dressing
Skewers – use short skewers, or cut long ones in half
Place the strained, cooked tortellini in a bowl or large gallon freezer bag. Pour the salad dressing over the top, combine together, and marinate in the refrigerator for 3 hours or longer.  For additional flavor, marinate the drained olives and fresh mozerella in separate bags. Drain the marinade off the tortellini and olives when done.
Place one of each item onto the skewer using the pointy side, placing olives on the both ends to secure tightly. Can be made a few hours in advance. Cover tightly and place in the refrigerator.
Grilled Chicken and Veggie Kabob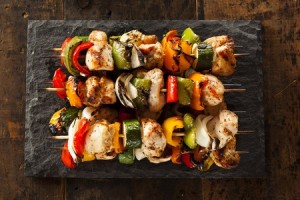 Marinade:
3 lemons, juiced
3 tablespoons olive oil
3 cloves garlic, minced
1/4 cup dried dill
Salt
Freshly ground black pepper
Kabob:
2 pounds boneless, skinless chicken breast, chunked
1 yellow onion, quartered and chunked
1 red pepper, chunked
16-20 baby Portobello mushrooms, stems removed
1 small zucchini, sliced into 1-inch rounds
Prepare marinade in a long, shallow baking dish by combining lemon juice, olive oil, garlic, herbs, 1/2 teaspoon salt, and 1/2 teaspoon pepper. Set aside.
Prepare kabobs by skewering alternating pieces of chicken and various veggies. Be sure to leave enough room on ends of skewers to flip them while cooking.
Place skewers in baking dish with marinade, and roll to coat. Cover dish and refrigerate overnight or at least for a few hours.
When ready to cook, heat grill to high. Place skewers on grill. Cook, using tongs to turn skewers occasionally, until chicken is cooked through, about 15 to 20 minutes.
Strawberry Shortcake Dessert Kabob (cold)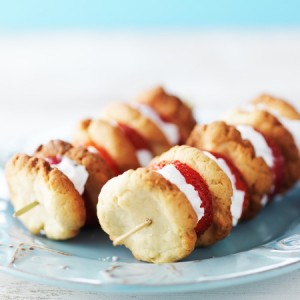 1 Shortcake box mix (prepared with package directions) – You can also use bakery-purchased shortcake to save time for swimming and boating!
1 pint jumbo strawberries, sliced widthwise (discarding the tips and tops)
1 bag jumbo marshmallows
1 cup white chocolate morsels, melted according to package directions.
Skewers – use short skewers, or cut long ones in half.
Preheat oven to 350 F.
Cut cake into 1.5 inch cubes. Thread the skewers starting with the marshmallow, cake, and strawberry. Repeat pattern.
Placed finished skewers in a pan lined with parchment paper and drizzle the kabobs with melted white chocolate.
Store in the fridge. When ready to serve let sit at room temperature for a few minutes.