by Lana Hawkins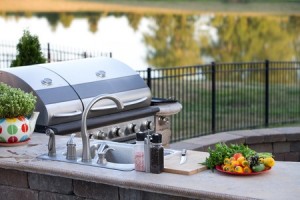 Everybody needs a place for escaping the busy life of a city. That is why we tend to have cabins in the woods that will help us reconnect with nature and our families and friends. Not only should you make your cabin cozy and comfy, but you should give it an additional outdoor kitchen that will provide you with the most memorable beautiful moments of your relaxed part of life.
Mix and Match the Materials

The old school materials for cabins, such as wood, are always welcome and perfectly fit in with the nature. However, to make your cozy cabin even more comfortable you should build an outdoor kitchen that will have different materials in it. You can give it a firm wooden base, but incorporate some modern materials such as stainless steel and marble for making its surfaces shiny and attractive. Also, you can always build a metal railing around the kitchen and separate it from the woods physically only.
Have Everything You Need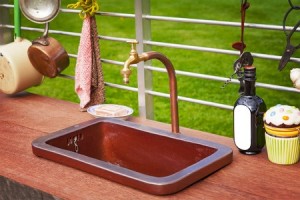 Even though this is a kitchen in the woods, it does not mean it should lack any elements. Install and organize everything, just like it would look like in a regular indoor kitchen. Set up a sink, stove, fridge; have plenty of storage area as in cupboards and drawers; install a grilling station and even install a ceiling fan or a heating system. You never know what you may need, so have everything just in case.
Safety First
Just like any room, your outdoor kitchen should be absolutely safe and without any faulty appliances; especially because it is in the woods. To avoid any potential disasters, you should have all the electrical and plumbing work done by the professionals. Also, make sure that none of your appliances are faulty, to avoid starting the fire and damaging the nature. To do so, have the stove and fridge checked up regularly, and have grill and oven repairs on a regular basis too. Make sure that everything in your outdoor kitchen is securely installed, and nobody will be in danger of fire, floods or other inconveniences.
Cedar and Steel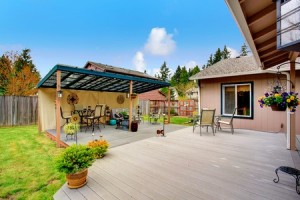 The soft tones and textures of cedar are a great way to introduces warmth into your outdoor kitchen. You can incorporate it through the furniture, such as tables, chairs and cupboards or even floors. The best way to contrast this soft touch is by introducing steel into the kitchen. Do this through some contours of the vertical garden, some modern chairs or the bar area. This perfect contrast between the warm cedar and cold steel will strike a balance within your kitchen, making it look rustic with a small modern touch.
Herb Garden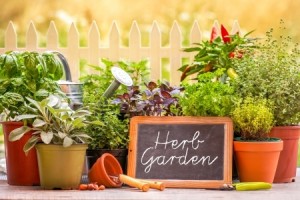 Since your kitchen is now one with nature, you should plant a few spices and veggies to complete its look. Have a vertical herb garden that is practical, requires low maintenance and it is highly functional. Here you can plant all of your favorite spices and always have some fresh ingredients available. Not to mention that this small garden is an excellent decoration and touch of nature.
Rock it Out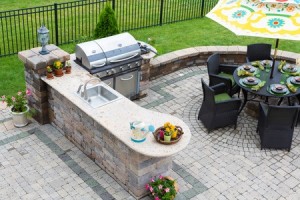 Since rock is one of the nature's most common materials, you should try and bring it to your outdoor kitchen. There are various ways of doing so, you just have to find what fits your kitchen the best. You can either go for stone floors, with various pebbles engraved for a fun pattern or you can make your countertops and bars out of it. Also, you can do the same thing by simply introducing some decorations made out of stone, such as small figurines or even some holders for your dishes and cutlery.
All in all, when building an outdoor kitchen within a cozy cabin, the first thing to consider is safety. After that is secured, play with natural textures, materials and colors and you will just love spending your summers away from the city life.