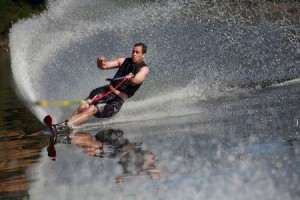 Move aside noodles and floaties. There's a new big man on campus. If the thrill of jetskiing and wakeboarding isn't enough, we've got you covered. Keep an eye out this summer for some crazy, action-packed things happening on your lake. While some of these extreme water toys are literally blowing out of the water; others allow you explore the depths of your lakes. Although I'll stick to my floaties, these new inventions are pretty darn cool.
Flyboarding
Although the hoverboard is making its mark on land, it's on its way to making its second home on water. Flyboarding is a combination of wakeboarding and hoverboarding. The flyboard sucks in water through a tube, which is how you'll go flying. As jets shoot the water down, you'll be lifted up. Other versions of the flyboard require just batteries and can travel up to 45 miles per hour. If flyboarding isn't your thing, try flybiking. Although they are similar concepts, flybiking allows you to sit down while you're flying above the lake.
Water Scooters
Designed for scuba divers and snorkelers, the water scooter is designed to let you swim through the lake using less energy. This way you'll be able to explore underwater longer. If you're looking to buy one of these new water toys, I'd recommend the Water Scooter. It isn't too expensive and many lake and seaside resorts are now offering rentals. Try attaching an underwater camera or GoPro to your Water Scooter to revisit your underwater journey.
Subwing
If you've ever wanted to experience what it is like to be a fish, the Subwing can make that happen. The Subwing is attached to a tow boat and consists of two wings connected to a rotatable swivel. Riders grab on to each wing. By tilting the wings at different angles, you can control the direction you move. All you need is a pontoon at low speed to tow your riders, which is good news for me. I'll be the one sunbathing on the pontoon.