By Anna Patiuk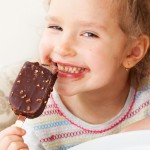 Messy ice cream hands are my favorite way to do summer. Forget napkins; I'm too focused on how this delicious treat sent from heaven (okay, my freezer) tastes. What better way to beat the summer heat than with popsicles, homemade ice cream, and mini ice cream sandwiches?
Strawberry Popsicles
Fruity popsicles are great for a fresh, healthy treat, and they are always a hit with the kids. The fun thing about this recipe is that you can mix it up with different fruits; try blueberries, raspberries, or a mix of all three! You'll need a popsicle mold (Target or Amazon will have them) and some popsicle sticks. For this recipe you can use fresh, ripe strawberries or frozen. I prefer fresh berries because of their crisp flavor.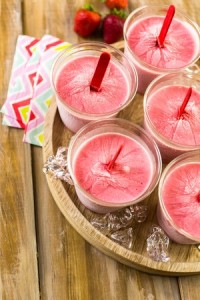 2 ½ to 3 cups of fresh strawberries
2/3 c. water
2 Tbsp. lemon juice
5 Tbsp. honey
Blend strawberries, water, lemon juice and honey in a blender until smooth.
Pour the mixture into the molds and freeze them.
After an hour, put the popsicle sticks in the mold and let them freeze for another 4 hours until solid.
Chocolate Peanut Butter Ice Cream
If you don't have an ice cream maker, have no fear. All you need is a rubber spatula and whisk or an electric hand mixer. You'll also need a plastic tub or container to put the ice cream in (think a big Country Crock butter container). Although making ice cream by hand may take a little more time, good things come to those who wait. The creamy, frozen custard-like end result is so worth it.
2.5 oz. dark chocolate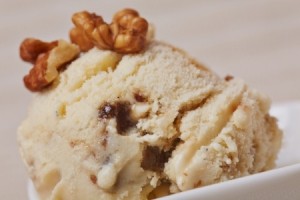 2.5 oz. milk chocolate
½ c. sugar
¾ c. whole milk
1 ½ c. heavy cream
3 egg yolks
½ c. chopped Reeces Peanut Butter Cups
Break up chocolate into smaller pieces. Add chocolate pieces and milk to saucepan and wait until fully melted. Remove from heat and let chocolate milk mixture cool.
Beat egg yolks and sugar with mixer or whisk until thick. Stir in chocolate milk mixture.
Pour entire mixture into saucepan and cook on low heat (make sure it does not come to a boil). Stir continuously.
Once the mixture is thick enough, stir for two minutes while it cools.
Whip the heavy cream until stiff peaks are formed. Add chocolate custard mixture and beat well with a hand mixer.
Pour this into a plastic tub and put in freezer.
After 45 minutes in the freezer, take it out and stir with a rubber spatula or electric hand mixer. Stir aggressively to get rid of ice chunks!
Put back in freezer for another 45 minutes and repeat this process three or four more times. By the end, it should be a frozen custard-like consistency.
During the final stir, mix in the Reeces bits. Cover the container, and leave in freezer overnight.
Fun-Sized Vanilla Ice Cream Sandwiches
I'm still on the mini-everything-food kick. But I'd say these ice cream sandwiches are one step above mini; they're fun-sized. And since they're small, they make for less of a mess, which means less cleaning up after the kids. Basically, they're everything you could ever want in an ice cream sandwich. Try serving these little guys at parties or get-togethers at the cabin this summer.
1 box Vanilla Wafers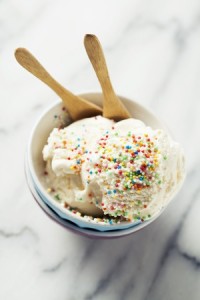 Refrigerated hot fudge
Sprinkles
Vanilla ice cream
Line a cookie sheet with parchment paper. Place Vanilla Wafers face-up on sheet.
Add a spoonful of refrigerated hot fudge onto each wafer and spread.
Scoop ice cream onto each wafer. Press down with another wafer until the ice cream pushes out to the edges to create a sandwich.
Roll the ice cream part of the sandwiches into sprinkles and place back on cook sheet.  Freeze until ready to serve.