Presented by the Organization for Bat Conservation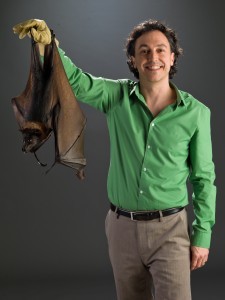 Did you know that a single little brown bat — the most common bat in Wisconsin — catches more than 1,200 mosquitoes in one hour?  Imagine what a colony of these nocturnal workers can do to keep the stinging insect population in check at your cabin!
Learn about the benefits of bats and the challenges we face to conserve them from Rob Mies, scientist, conservationist, television personality and one of the world's leading bat experts.
Through his "Live Bat Encounter" special stage programs and "Bat Zone" display you'll see lots of live bats and learn fascinating facts about these unique mammals.  You'll encounter a big brown bat from North America and hear its high-pitched echolocation with a "bat detector," meet fruit bats from Africa and Asia, and finally, come face-to-face with the largest bat in the world, the Gigantic Flying Fox Bat from Malaysia — with a 6-foot wingspan!
Mies is the founder and director of the Organization for Bat Conservation at the Cranbrook Institute of Science in Bloomfield Hills, Michigan.  He has appeared on many television shows with his furry, winged friends including, The Tonight Show, The Ellen DeGeneres Show, The Today Show, The Doctors, National Geographic WILD, Late Night with Conan O'Brien, Fox & Friends and Martha Stewart.
Don't miss the interactive and entertaining "Live Bat Encounter" presentations on the Cabin Living Stage with Rob Mies, presented at 4 and 6 p.m. on Friday, noon, 2 & 4 p.m. on Saturday and 11 a.m. and 1 p.m. on Sunday.