By Anna Patiuk
Autumn has got to be my favorite season. It means warming up next to the fireplace with a mug of hot cocoa, baking all things with cinnamon, and of course, taking out my Crock-Pot to make that chili I've been waiting all summer to make.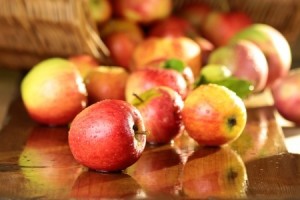 Apples have been a huge influence in the food and beverage industry throughout the past few years with the rising popularity of making craft hard cider and experimenting with apples. Granny Smith and McIntosh apples are great for baking and cooking. Texture and taste are keys when it comes to baking with apples, and they should have a good balance of sweetness and tartness. During the coming season, I'm planning on taking full advantage of this abundance of apples by making some of my favorite fall apple recipes.
Warm scones are a favorite of mine for a light breakfast or snack and are a great way to start the day. While you're at the cabin this weekend, wake up your family to the warm, wafting smell of these apple cinnamon scones.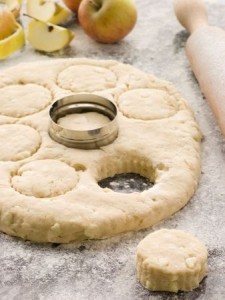 Apple Cinnamon Scones
2 ¾ cups all-purpose flour
1/3 cup sugar
1 tablespoon baking powder
¾ teaspoon salt
2 teaspoon cinnamon
½ teaspoon nutmeg
8 tablespoons COLD butter
1 Granny Smith Apple, chopped into cubes
2 eggs
1 teaspoon vanilla extract
½ cup applesauce
1. Mix together flour, sugar, baking powder, salt, cinnamon and nutmeg.
2. Mix in cold butter until mixture is crumbly. Stir in apples.
3. In separate bowl, whisk together eggs, vanilla and applesauce. Add liquid mixture to dry mixture.
4. Grease baking sheet. Place balls of dough on pan about 5 inches long and ½ inch thick.
5. Preheat oven to 425 degrees. Bake scones for 18-22 minutes, or until golden-brown.
I love experimenting with sandwiches by using different cheeses, textures and breads. Apple slices on sandwiches create a crunchy complexity that gives your traditional peanut butter and jelly a run for its money. Try this easy, simple and nutritious recipe.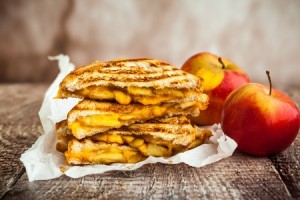 Apple & Brie Grilled Cheese Sandwich
4 slices sourdough bread
1 Granny Smith apple, thinly sliced
Brie cheese, thinly sliced
Butter, softened
4 tablespoons fig jam
½ cup arugula
1. Butter outside of each slice of bread. Spread fig jam on the inside of each slice. Add apple slices, brie, and arugula.
2. Heat a skillet over medium heat and place the sandwiches on the skillet butter side down. Cook each side until golden-brown or until cheese is melted.
Did I mention Crock-Pots are one of the best cooking inventions? Don't limit apples to just the sweets. Apples are delicious in savory dishes as well. Heat up that Crock-Pot and enjoy a new take on the classic roast beef dinner that the whole family will love.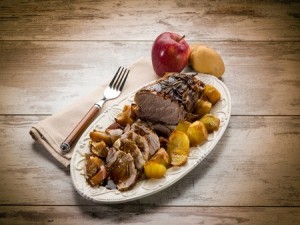 Hearty Apple Roast Beef
3 pounds beef shoulder roast
2 McIntosh or Granny Smith apples, chopped into cubes
1 red onion, sliced into thin rings
¾ cup red wine
2 bay leaves
1 sprig of rosemary
2 tablespoons water
1 tablespoon cornstarch
2 tablespoons olive oil
1. Add red wine to bottom of slow cooker. Add layer of onions.
2. Place roast on top of onions.
3. Place remaining onions on and around roast.
4. Place chopped apples on and around roast.
5. Rub top of roast with olive oil and sprinkle salt and pepper liberally to preference.
6. Add rosemary sprig and bay leaves to top of roast.
7. Place slow cooker on high and cook covered for six hours.
8. Remove roast and pour juices from slow cooker base through a fine sieve.
9. Add juice back to pot and heat on high. Add 1 tablespoon cornstarch and 2 tablespoons water to juice and whisk until it is thickened.
10. Pour sauce over meat along with apple-onion pulp. Serve immediately.
Don't limit yourself to just an apple a day! Take advantage of all the apples this coming season has to offer and make both sweet and savory dishes for your family and guests to enjoy.