Consider This…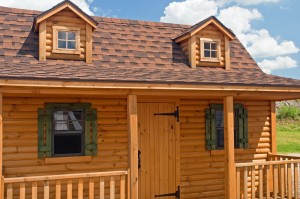 Maybe you think you're ready. After all, you've thought it all out. You've decided to purchase a beautiful piece of land – preferably one with an excellent view. Then you'll pour the foundation, erect four walls, attach a roof, have some lunch… dig an outhouse, do some electrical work, and voila! The cabin of your dreams is ready.
Maybe you took shop class in high school, or maybe you watched every episode of Home Improvement, so you pack up your hammer, saw and drill, and head out to the site to get started. You figure you'll be done in 6-8 hard weekends… Easy, right?
Not Quite. Everything seems easy at a distance.
In reality, building a cabin can be frustrating on the easiest of builds, and an utter nightmare when things don't shape up, or in this case, square up.
Here are some basic guidelines on how to get a good grasp of what it takes to build a simple one room cabin.
Location, Location, Location
Let's say you want to build a 12' x 20' timber cabin. Your first step in the cabin building process is to find and purchase some land. Keep in mind that you will need to get construction materials to the site, so pick a spot that is pretty level. Yes, it would be great if your cabin could be partially built into that nearby bedrock cliff face, or hanging on the side of that amazing ravine, but for ease of an economical build, and your own sanity, the K.I.S.S.(Keep It Simple Stupid) principle is best used when choosing a location.
Do research on the land you plan to purchase. Make sure your dream cabin won't be built in or near a yearly flood zone or known mudslide area. This may sound logical, but many people don't thoroughly investigate flood zones and other various location issues- simply because their potential cabin "would be dreamy right over there".
Be smart and build a beautiful bench or deck to take in the view, and position your cabin on the easiest accessible, non-flooding, level land you can purchase.
Choosing a Foundation
You should check your local laws and regulations on what foundation would be best in your area, but below are some popular options.
Cinder Block Construction– Most small cabin foundations up to 20' x 20' in size can be built using cinder block construction. Cinder block is relatively inexpensive and is fairly easy for the 'Weekend Warrior' to manipulate.
Super Spikes– In non-flooding areas where frost and severe cold is not an issue, Super Spikes (available at a local lumber dealer) can also be used.
Poured Concrete Posts/Footers– Having your foundation built on concrete piers can add some important benefits. With proper insulation, a cabin 1-3 feet off the ground will generally be cooler in the summer – which is when most cabins are in use. Having your cabin off the ground will also alleviate any moisture and/or rotting issues, and keep termites and other critters from gaining access to your sub-floor.
Concrete pad. A concrete pad 8"-10" deep is adequate for any load bearing issues and will accommodate most cabin sizes. When using a concrete pad as a foundation, you can eliminate your sub-floor and screw (or bolt) your walls directly to the pad. This works great where there is no frigid winters and/or permafrost.
Deciding on a Floor Frame
The next step in your 'build a cabin adventure' is deciding on a floor frame. There are many different ways to frame a floor to the foundation. If you've gone with poured concrete posts (Sonotube) or Super Spikes, a 'Timber Rim' framing approach is relatively easy and economical – depending on how you plan your foundation.
Important Note: When framing your floor, it is very important that you use pressure treated timber. The chemicals used in pressure treated lumber can be more corrosive to steel connectors and brackets, so it's important to use Hot Dipped Galvanized (HDG) products or corrosion resistant, zinc coated, stainless steel.
Location of Windows and Doors
Once your floor frame and sub-floor are in place, the next step is erecting the walls, so hopefully you will have some idea about where you want to enter and exit your new cabin.
When framing in windows and doors, the most important rule to remember is to always leave yourself ½"-1" around the window or door frame. This allows you precious wiggle room to install your windows and doors.
Electrical Work
You also want to start thinking about how many electrical outlets you'll need, and how much overall power you will be using for your cabin. If you're in a remote area, you may not have access to electricity, or you may want to look at a solar, wind, or solar/wind power- off the grid combination. In any case, if you decide on some form of electrical power, you will install it after you've erected your walls and begin to frame out the roof.
You could call your best friends' brother – who is a whiz at wiring, or you may want to hire an electrician. The latter is the better option. Nobody wants to re-run wiring or tear out new construction because the wiring is not up to code.
Decorate Your Interior
At long last, your little cabin is nearly complete. Once the walls and roof are up, and you've decided on your power option, the only thing left to do is decorate your interior.
I suggest you utilize as many folding or break-down options as possible. After all, this is a small cabin – no need to clutter your new space with miscellaneous junk.