By Ella Andrews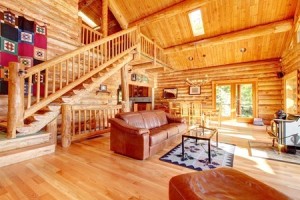 One day you might wake up and feel as adventurous as Henry David Thoreau, and you may think "why not have a log cabin for myself and the family to spend some time in."  A log cabin is the right way to experience life within nature, surrounded by the greenness of the untouched. You have two options, of course – build one or buy one. But neither of those is the actual question you should be asking yourself. The more important question would be: what should you put inside?
Log cabin interior design is a tough task which takes some careful planning. It requires more thought than gathering your family and your essentials and getting a man and a van to drive you up to the place. You will be literally living in the woods, so you need to bring some comfort along to make your life easier.
One way to go, depending on the length of your stay, is to take furniture from your own house. In that case, you need to get some movers to do some furniture relocation. This might be costly, however, as you have to think of paying the same price for the return trip and the same removal service.
Another way to go, if you are wealthy enough, is to get wholly different furniture for the log cabin. This is the typical choice for cabin-owners. The new stuff does not need to be brand new – browse through some flea markets for old, but usable tables and chairs, a wardrobe, and some cabinets, and you are pretty much done. Also, since the cabin is somewhat out of reach and you cannot inspect it daily, you should design it with cheaper items which you will not miss in the case of somebody rummaging through the place and pilfering some – or all – of them.
Once you get to the decorating, you should already have a plan about what goes where.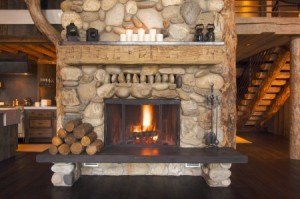 The log cabin probably has a fireplace for cooler nights, so keep flammable items away from it. Have all the cooking equipment near the fireplace – the best choice is to have a rack for all the pans and dishes above the hearth. This is a commonly-used type of design, and there is a reason for that. Place the table and chairs near windows to have nice day-lit breakfasts and lunches. Place the cabinets near walls and load them up with clothes and accessories. The sofa and armchairs, if you brought some along, should go in the middle of the cabin for the family to gather and talk or play.
Walls should not stay bare as well. Add a few paintings for color, or why not install a stand or two and place some plants. Sure, you are in the woods, but some green within the house will freshen up the place. Adding a carpet is also a good idea – do not keep the wooden floor bare as some splinters may be about.
With all this in mind, do some planning and purchasing, and then check for a reliable moving company, and call them up. Once the movers arrive, it is time to do some literal green living.
For more helpful tips: visit this site