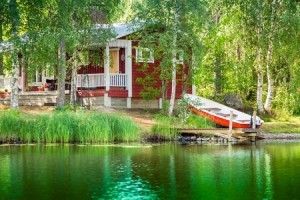 by Ella Andrews
If you feel like spending some time away from home in nature, perhaps a cabin retreat is your best option. There is hardly anything more relaxing than being with your family away from the hustle and bustle of the big city, close to nature. Unfortunately, owning a cabin is sometimes more than you can afford.
There is an alternative and it comes in the form of renting a cabin. This is the easiest way to experience some cabin life, without an entire relocation process. Just think of the cabin as a hotel. However, there are some things you will have to consider before you rent a cabin. Here is a list:
Directions and traffic – before you pack your car as much as a moving van with stuff for your cabin vacation you should consider getting to your cabin. If you have booked the rental online, make sure you know the route and whether or not there will be a lot of traffic. You do not want to waste hours stuck in a column of vehicles trying to leave the city, some of them surely headed to other cabins. See if you can find alternative routes to avoid the stress.
Consider access to the cabin – you will do well to ask if there is access from a main road and how good that access is. Cabins are not your typical residential development, so you will do well to know what condition the road to the cabin is in and whether your vehicle can take the challenge.
Nearby stores – some cabins are quite secluded, while others are located near settlements and offer nearby stores. This is a good thing to consider, especially if you are planning a long vacation. You don't want to run out of liquid refreshments or food, when there is nowhere near to re-stock.
Cabin amenities – before you rent a cabin, ask for a list of amenities that are present there. This may not be a permanent home, so don't just assume there will be a toaster, a grill and a microwave among other things you expect to find. Do not be afraid to ask for things like clean towels, cooking gear and utensils, blankets and sheets. You want to make sure your relocation there for the weekend includes anything that is missing and that you will need for a good time.
Drinking water – not all cabins are connected to city plumbing. Thus water from the taps may not always be safe to drink. You want to know that beforehand, in order to bring enough water for your vacation and not worry about it.
Pictures and reviews – before you rent, you should look for past renters reviews. If there are positive reviews and testimonials you will make your choice easier. But don't just read few of the good ones – look further to see if people found anything at all that bothered them. As for pictures, you certainly want to review as much as possible. You are going to spend time in what is on them after all, so make sure you like it.
Renting a cabin requires some research, but it allows you to be flexible – you can simply look for another cabin next time you decide to rent.
Read more tips on this moving website