by Ella Andrews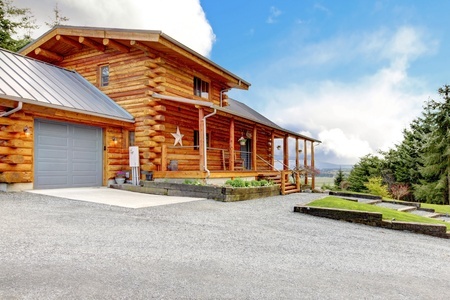 Spring is finally here and it comes with a lot of sunshine blue skies. This doesn't mean that the winter didn't leave any permanent traces, especially on your cabin. Take advantage of the warmer weather to check your log home and the surrounding area for damages. While it may not take you a lot of time to inspect your cabin, it will later save you efforts and money for costly repairs.
Logs
Logs should be the first on your list. The detrimental winter conditions might have damaged the wood which can result in leaks and pest evolvement. Look for cracks and scratches and examine the caulking. Be prepared for some touch – ups. Any dark areas on your logs indicate that these places are too humid.
Test the wood by spraying a bit of water. If the liquid rolls down, you are good for another year. If the water soaks in, you should consider applying a fresh stain coat. Don't forget to examine the log ends as they tend to absorb more moisture. Of course, if the surface's finish is only a few years old, it simply ought for some good cleaning. Power washing will be enough to resolve this issue. Termites also constitute an actual danger for the logs. Use the appropriate treatment to keep them at bay.
Roof and Gutters
These are other critical areas that require special attention. Use your garden hose and a pressure washer for a thorough gutter cleaning. Start by removing the debris from your down-spouts and gutters. Then flush the remaining dirt with the hose. Try to get rid of as much residue as possible, before power washing it. Otherwise the down-spouts may get clogged.
Proceed by checking the roofing material or the shingles. Don't forget the chimney. Roof problems can have negative impact on the insulation of your log home. If you find this task risky or difficult, you should turn to a professional.
Spring Cleaning
Use this time to deep clean your log home and prepare it for the upcoming active seasons. This means both inside and outside. Apart from the standard dusting, vacuuming and moping include also window cleaning in your list with household tasks. Your glasses are probably dim and blurry from all the debris, accumulated during the winter period.
As for the exterior, you need to take care of the porches and decks. Cleaning them is the minimum you can do. When you clear the dirt away, you will be able to determine whether you should make any repairs. If you stumble on a loose board, nail it back into place.
Landscape
What surrounds your log home also matters. If you are a passionate gardener, this is a perfect period for planting different greenery. Avoid climbing plants like ivy, because they can easily attach to the surface of your home and ruin the wood stain. Pay attention to the trees in your property. Are they leaning too close to your cabin, endangering its foundation?
A little touch – up and a good cleaning will keep your log cabin looking great and protect your investment.
More house maintenance tips read at this website