---
With the Spring ritual of opening the cabin just around the corner, it's a great idea to have a few quick lunches on hand in the refrigerator. These quick and easy cold pasta salads will keep the entire weekend and feed hungry foragers who are putting out the dock and washing the linens!
Tomato Basil Feta Pasta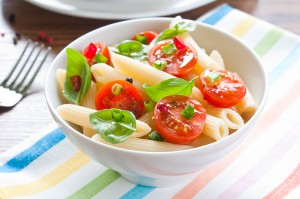 4 -5 medium very ripe tomatoes, chopped
1/2 cup thinly sliced fresh basil (do not use dried)
2 tablespoons olive oil
1 -2 garlic cloves, minced (depending on how garlicky you like it use more or less)
1/4 teaspoon salt
1/4 teaspoon pepper
8 ounces penne pasta
1 (4 ounce) package crumbled feta cheese
Mix tomatoes, basil, oil, garlic, salt and pepper. Cook pasta until al dente then drain and cool with cold water. Toss pasta with tomato mixture and feta cheese. Refrigerate for one hour or serve right away.
Pesto Tortellini
1 (19 oz) package cheese tortellini
½ C pesto (homemade or store bought)
1 (7 oz) jar sun-dried tomatoes packed in oil, drained and chopped
½ C bell peppers, chopped
½ C feta cheese crumbles + more for garnish if desired
Cook tortellini according to package instructions. Remove to a large bowl to cool.
Once tortellini is cool, stir in pesto, sun-dried tomatoes, and bell peppers to combine. Refrigerate for one hour or until salad is completely chilled.
Stir in feta cheese right before serving.
 
Asparagus and Artichoke Orzo Salad (A little more involved, but oh so worth it!)
1 bunch asparagus, about 3 cups diced
1 tablespoon olive oil
2 shallots, minced
2 cloves garlic, minced
12 ounces orzo pasta, cooked to al dente and cooled
15-ounce can artichoke hearts
1-1/2 cups sun-dried tomatoes in olive oil, julienned
1 lemon, zested and juiced
1/4 cup white wine vinegar
1 teaspoon kosher salt
1/2 teaspoon fresh ground black pepper
1/3 cup olive oil
Bring a medium saucepan full of water to a boil. Turn off the burner, add in asparagus pieces and blanch for 2-3 minutes. While the asparagus is in the water, heat one tablespoon olive oil in a small sauté pan. Add in shallots and garlic and sauté for 1-2 minutes, just until tender. Drain the asparagus and rinse with cool water. In a large bowl add cooked orzo pasta, asparagus pieces and sautéed shallots and garlic. Drain artichoke hearts and quarter them, adding them to the bowl. Add in sun-dried tomatoes with oil and lemon zest. Stir to combine.
In a small bowl or container, whisk together lemon juice, white wine vinegar, salt and pepper. While continuously whisking, slowly pour olive oil into the vinegar. Once emulsified, stir the dressing into the salad. Move to the refrigerator for at least 5 hours for flavors to combine. Serve cold.