If you want to lead a green life at the cabin, and get a little workout at the same time, pedal boats are the all the rave! The new models have come a long way since those traditional pedal boats of years past. Made of stronger, lighter materials and added accessories, today's pedal boats are built to accommodate a wide variety of uses! And yes, some even come with a little motorized help!
When searching for the perfect pedal boat it's important to keep in mind what you'll use it for – family outings, fishing, a good workout, small children, long tours, etc. Before purchasing, always check the specifications including weight capacity and size to make sure your family and storage space will fit!
Here's a list of some favorite models. Most of these can be found online or through Amazon.com.
Pedal Boat – The Escapade by Nauticraft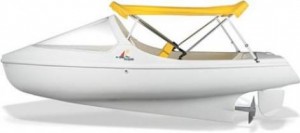 This pedal powered vessel, with its sleek design, is suitable for use in harbors, bays, ocean inlets and lakes.  It is also used for transportation to an offshore yacht or island home.  The boat's efficient Nauticraft designed single pedal drive system turns a 15″ propeller, making movement through water feel effortless, reaching speeds up to 5 mph.  A spade type rudder provides easy and effective turning capability, controlled by a side mounted steering handle.  The sailboat type hull positions the operator down inside the cockpit.  Features a dry shelf up front for items you don't want to get wet and stretch cord retaining system around the front perimeter of the cockpit keeps life jackets, towels and even a beverage safely tucked away.   A rear bench seat fits 1 to 2 people with a molded in storage compartment beneath the seat cushion.  www.nauticraft.com
Pedal and Electric Boat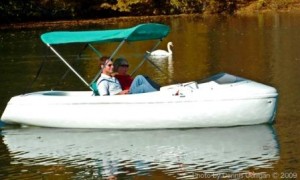 This boat has both pedal and electric propulsion capability! The Encore is the perfect boat choice for couples and families. With side-by-side fully padded recumbent seats and a bench seat in the rear, a group of 4 can take a spin out on the lake with ease. But don't be fooled by the size, one person alone can navigate it handily through the water, regardless of the propulsion method. A conveniently placed steering handle allows control of the maneuverable double rudder system. There is plenty of storage room on the front shelf and under the rear seat for things such as towels, beverages, cameras and other electronics. www.nauticraft.com
Sun Dolphin Sun Slider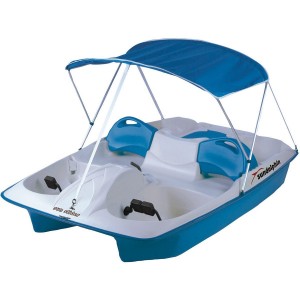 Adjustable 5 Seat Pedal Boat
With adjustable seating to maximize pedaling comfort, seats fully recline to create an on the water sun lounge for two. Other features include a super tough paddle wheel, maintenance free bronze bushings for longer life, and pedal positions for 1, 2 or 3 people. The extras include a built-in cooler or storage area, beverage holders. www.sundolphin.com
Monaco DLX Angler
If you need a little extra shade, and extra room to fish – this pedal boat has it all. With its adjustable backrests, solid built-in cooler, easy to deploy canopy and two flush mount rod holders, the Monaco DLX angler provides comfort and adventure for up to five fishing enthusiasts or family members. www.pelicansport.com