by Candice Hubbard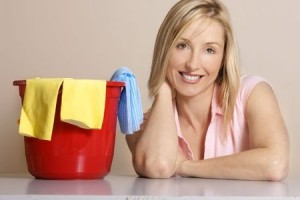 Whether you are selling your lake home or cabin, having the neighbours around for a party or just want to lighten your mood. There are a few cheap and simple tricks that will make your getaway home feel like new and smell fresh.
The Kitchen
Make sure you replace all your tea towels with fresh and clean ones. If you have any spray on starch, spraying your tea towels will make them look like they have been ironed. If you have a stainless steel sink and want it to shine, buy a cleaner that is designed for stainless steel sinks.
Cleaning the Sink
Once all the washing up is done, apply the cleaner to a soft cloth and scrub the sink, make sure you scrub along the grain of the sink; you will be able to see which way the grain goes by shining a bright light on it. Also remember to use an old toothbrush to scrub around the taps and plug hole. Once fully scrubbed rinse with warm water then polish with a separate, clean dry cloth.
Flowers And Baking
Try getting a vase of bright yellow flowers and making a feature of them. you can also make your kitchen smell nice by cooking some cookies, if you do not have time, slice and bake some oranges for about 10 minutes, remove and discard but leave the oven door slightly open, this should fill your kitchen with the smell of oranges.
The Living Room
Make sure your windows are clean and clear of any outside foliage that blocks natural light or spoils the view. It is also worth getting your carpet and furniture cleaned. Steam cleaning your textile furniture is recommended as it will not only lift any stains but freshen and revitalise the fibres, making it look fresh and inviting. Try lighting the room softly, if you do not have a dimmer switch then use uplight and table-top lamps.
Entrance Hall
If you have carpet in your hallway, call in a cleaning company. You do not need to spend lots of money; the lighting in your hallway is probably poor so the carpet will look dirtier than it actually is. Even the cheapest carpet cleaning company will be able to lift the kind of everyday stains that kids and pets track into the hallway.
Making the Whole Cabin Smell Fresh and Lovely
If you are strapped for cash and do not want to buy fancy potpourri, try this:
Before you turn on all your lights, brush the bulbs with some vanilla extract from your cupboard. When you turn your lights on, the vanilla extract will heat up and make the cabin smell like a bakery.
Guest Bedrooms
Some simple storage solutions can make all the difference, big plastic boxes with lids, are fast way to de-clutter your bedrooms and most will fit underneath a bed. If you are going to have people staying, get a carpet cleaning company to steam clean the carpets and beds.
Candice Hubbard had been running her own Steam cleaning company Brisbane area for 10 years. She uses all natural cleaning solutions and her business, Cheapest Carpet Cleaning Brisbane had been awarded ecological cleaning company of the year in 2007.