Spring really is right around the corner, even though most of us are still looking out on snow-covered lawns. Now is a great time to plan for additions to your garden, including finding ways to attract bats. Just think–you can forget the bug spray and have bats do the work in your cabin this year! Adding certain features to your garden or cabin can give bats a safe place to call home and you a chance to watch the fascinating world of bats unfold right from your back door.

Adding three key features will help draw bats to your garden and keep them happy while they are there.
Food
In most areas of the country, backyard bats are insect eaters. The best way to attract night-time bugs for the bats to eat is to plant flowers that bloom late in the day or are night-scented. Popular choices include: Evening Primrose, Phlox, Milkweeds, Goldenrod, Salvia and Butterfly Bush. Native plants to your area are best so check with your local garden supply store to find the right selections or visit the Lady Bird Johnson Wildflower Center site to search for native plants by state.
Water
Besides lakes, providing a water source for bats to drink as well as insects to reproduce is the second critical part of a wildlife garden plan. For smaller backyards, install a bird bath or simply fill a container with water. Just remember to change the water regularly!
Shelter
Bat houses offer a safe nursery site for your new bats yet other smaller sheltered spaces are also important in keeping bats safe from predators. You can create sheltered corners using a combination of walls, fences or hedges or train fragrant perennial vines to climb walls or fences to provide possible roosting sites.
Other Helpful Tips
Remember to garden organically! Pesticides can be very harmful to bats and other wildlife. Check with your local garden supply store for ways to keep pesticides out of your backyard.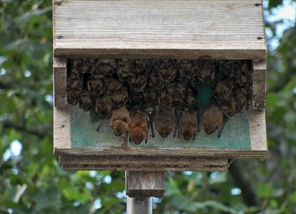 Add a bat house to your cabin this year and give bats a safe place to raise their young. Organization for Bat Conservation bat house design has been proven to increase the chances your bat house will become occupied. Visit the website for detail about where to place your bat house and step-by-step instructions on how to install your bat house.