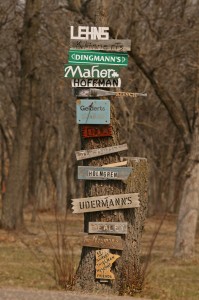 You want the perfect name for your cabin–something that expresses your family interests and activities, or that reminds you of special memories and the beautiful surroundings that surround your getaway. And, of course, you want it to last through the generations!
Here are some activities to get the brainstorm session moving!
Family Event: During that next family get-together, hand out small strips of paper and pens (or keep them by the door for easy access). Through out the days, everyone needs to write a word (descriptive or object) that reminds them of their cabin stay. For example: butterfly, green, rock, sandy, beach, bikini, party, trees, creek, bbq, blessings, eagle, nest, etc. At the end of the get-together, pin them all up on a board. Then, like magnetic poetry, piece them together to form two or three word phrases. You might find one you like — or — it might spark a wonderful idea for the perfect name!
The three column approach: Create one column of descriptive words, one column of nouns/objets (something in your environment), and one column that describes your style of home. It helps if you do it on the deck, patio, boat — wherever you feel relaxed and are enjoying the cabin! Then mix and match to piece them together!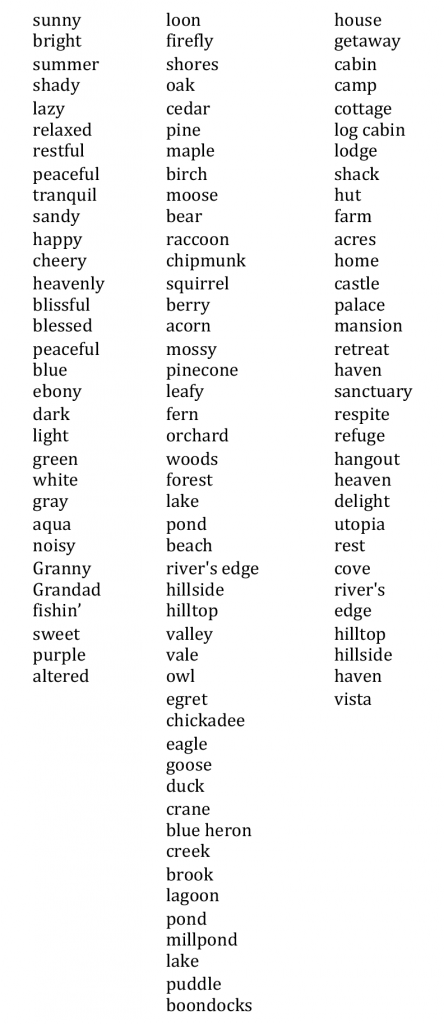 Name Generator: There are some fun name generators on the web. If you want to go "random," try this to get you started! http://www.cottagesmith.com/Misc/CottageNameGen.php
A tip when you want to use your last name: For a creative twist on the name game, try to combine your name or use a variation of your name for some interesting combinations. For example:
Back – Back Woods
Anderson – Anders Falls
Hall – Frog Haller
Wilder – Call of the Wild
Most importantly, choose something you and future generations can live with! Whether you go funny, cute, memorable, or quirky your cabin name represents the place where favorite memories will be made.