"The Bat Zone" with Rob Mies

Presented by the Organization for Bat Conservation

Did you know that a single little brown bat -- the most common bat in Wisconsin -- catches more than 1,200 mosquitoes in one hour?  Imagine what a colony of these nocturnal workers can do to keep the stinging insect population in check at your cabin!
Learn about the benefits of bats and the challenges we face to conserve them from Rob Mies, scientist, conservationist, television personality and one of the world's leading bat experts.  Through his "Live Bat Encounter" special stage programs and "Bat Zone" display you'll see lots of live bats and learn fascinating facts about these unique mammals.  You'll encounter a big brown bat from North America and hear its high-pitched echolocation with a "bat detector," meet fruit bats from Africa and Asia, and finally, come face-to-face with the largest bat in the world, the Gigantic Flying Fox Bat from Malaysia -- with a 6-foot wingspan! 
Mies is the founder and director of the Organization for Bat Conservation at the Cranbrook Institute of Science in Bloomfield Hills, Michigan.  He has appeared on many television shows with his furry, winged friends including, The Tonight Show, The Ellen DeGeneres Show, The Today Show, The Doctors, National Geographic WILD, Late Night with Conan O'Brien, Fox & Friends and Martha Stewart.
Don't miss the interactive and entertaining "Live Bat Encounter" presentations on the Cabin Living Stage with Rob Mies, presented at 4 and 6 p.m. on Friday, noon, 2 & 4 p.m. on Saturday and 11 a.m. and 1 p.m. on Sunday.
You Have Questions, We Have Answers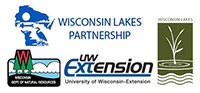 Presented by the Wisconsin Lakes Partnership

Wisconsin has an incredible team working for the continued well-being of its lakes. With 15,000-plus lakes in the state, no one entity can do the job alone. Again this year at the Madison Lake Home & Cabin Show attendees can get answers to all their lake questions by talking to the expert staff at the Wisconsin Lakes Partnership Special Feature, located in the back of the 400 aisle.
The Wisconsin Lakes Partnership brings science, education, and citizens together to empower people to work together to care for our lakes. The partnership is comprised of three entities; the Department of Natural Resources (which supplies the technical expertise and regulatory authority), the UW-Extension Lakes Program (provides supporting educational materials and programs), and Wisconsin Lakes (mobilizing citizens to be advocates for lakes).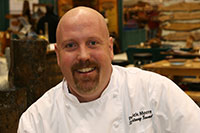 Sandwiches To Die For!
Presented by Chef Patrick Moore, the "Getaway Gourmet"

A "PB&J" sandwich might be okay in a grade school lunch bag, but you never have to settle for it again at the cabin! The Lake Home & Cabin Show's very own "Getaway Gourmet," Chef Patrick Moore from Brule, Wisconsin is back on the show floor whipping up three of his favorite "Sandwiches To Die For!"
How does a Spicy Grilled Fish Sandwich with Dill Cream and Pineapple Slaw sound? Or how about a tasty Italian Grilled Chicken Sandwich with Roasted Garlic Mayo? Or maybe you're in the mood for a Grilled Vegetable Wrap with Roasted Red Pepper Hummus? So put a lid on the peanut butter jar and head on back to the "Getaway Gourmet Cooking Stage" at the back of the 100 aisle.
Don't miss the popular cooking demonstrations at the show this year -- free recipe cards and sandwich samples will be served! Cooking demonstrations will be presented a number of times each day. (Friday – 3, 5 & 7 p.m.; Saturday – 11 a.m., 1, & 3 p.m. and Sunday – noon & 2 p.m.)
The "Getaway Gourmet Cooking Stage" was created and built by WisconsinPavilions.com.
Ontario Forest Product Manufacturers Pavilion

Presented by Ontario Ministry of Natural Resources & Forestry

Ontario is home to a number of award-winning log home manufacturers who use wood from sustainably managed forests in the province to create custom-crafted homes. The Ontario pavilion at the Lake Home & Cabin show this year features three log home manufacturers and a wood stain producer.
The Cabin Living Seminar Stage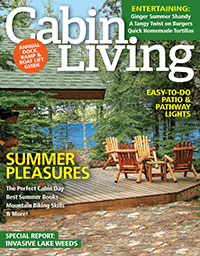 Presented by Cabin Living Magazine (formerly Cabin Life)

A summertime photo wall is the perfect setting for guests to enjoy unique and informational seminars, demonstrations and activities happening every hour at the "Cabin Living Stage." The complete schedule of events is in the Show Program, and at the Cabin Living Stage at the back of the 400 aisle.
"A Warm Welcome to the Show"
Presented by pianist Neal Topliff


For as many years as the Lake Home & Cabin Shows have been around, Minnesota musician Neal Topliff has greeted every person coming through the entrance with his peaceful, soothing music.
Each year his original piano and guitar music touches our spirit and takes us to the places and memories we treasure most. Neal's music is what relaxing at the cabin was meant to be.
Topliff began his musical journey at the age of five when he was introduced to his first love, the piano. He went on to play the violin, French Horn, electric and acoustic guitars and even toured the U.S., Hawaii, Japan and Hong Kong with the elite handbell choir, Strikepoint. In 1999, Topliff decided to form his own production company, Harbour Light Music, which his wife Beth named after a trip to Peggy's Cove Lighthouse in Nova Scotia. Since forming the company Topliff has successfully released 10 solo piano recordings, and a number of compilation CD's. His music has been described as soothing and addictive and he is most often compared with Jim Brickman, Yanni, and George Winston.
Be sure to listen and say hi to Neal as you enter the Lake Home & Cabin Show. And if you don't already own some of his music for your cabin this year's show is a good time to do it!
Whispering Pines -- Tales from a Northwoods Cabin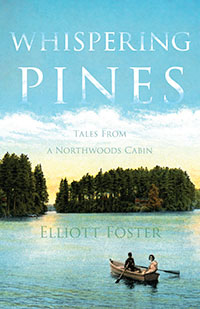 Presented by author Forest Elliott

In September of 1993, four generations of the Travis family gathered to celebrate the 80th birthday of their matriarch, Isabelle. Reflecting on their life experiences at their rustic family cabin, their stories were heart-warming and heartbreaking...but now, it's your turn to listen in as author Forest Elliott debuts his new book, Whispering Pines -- Tales from a Northwoods Cabin, and tells you the long held secrets of the Travis family, their hardships with building a cabin, the colorful characters ringing Lake Dunbar and the bittersweet pleasure of changing traditions.
Elliott has a passion for writing stories connected to the people and places of the upper Midwest. He grew up in the Twin Cities, but spent his summer vacations camping in the Boundary Waters Canoe Area, his college years at UW-Madison, and virtually his entire life at a family cabin in Minnesota's Chippewa National Forest.
Elliott will be speaking at 3 p.m. Saturday on the Cabin Living Stage.
Pin My Cabin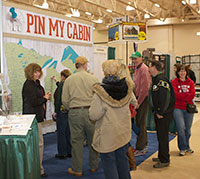 Presented by Wausau Homes

Want to see who your neighbors are? Here's your chance to "Mark Your Second Home Spot" at the PIN MY CABIN Interactive Map Feature presented by Wausau Homes.
Located at the front of the Lake Home & Cabin Show in booths 3-4, the PIN MY CABIN Feature is a large Midwest state map graphic that "grows" with pins throughout the show. Don't miss the fun and interactive chance to pin YOUR cabin and see just how many neighbors you really have. Plus, when it's time to build a new custom cabin there's a Wausau Homes dealer virtually anywhere you are in cabin country!
Weaving Demonstrations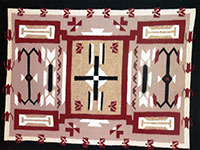 Presented by Glen Kordus

A little warmth of the American Southwest comes to the Lake Home & Cabin Show this year through a beautiful flat loom weaving demonstration using fine woolen yarns in rich colors. Glen Kordus of Windsor, Wisconsin took a simple weaving class more than 20 years ago and the rest, you can say... has weaved a part of his history.
You can meet Glen and see him work his art on his handmade vertical loom in booth 8 inside the front entrance to the show. He will be demonstrating his traditional weaving technique each day and will have many of his completed works on display.
These original weavings make great cabin wall hangings, rugs, table covers, runners and even one-of-a-kind horse saddle pads.