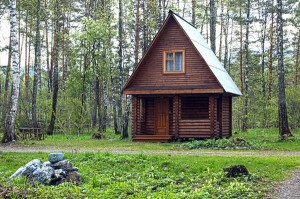 Small is definitely simple; and with the trend towards downsizing, the mini cabin is an affordable, cozy alternative for a retreat (or an addition to your current living space)!
The difference between small and mini
The "mini cabin" is described as a structure under 120 square feet, which is the size many zoning authorities will allow built without a permit (of course, please check your own restrictions prior to building). A "small" cabin is considered to be approximately 1000 square feet and requires permits and inspections, as any small home would. The benefits to building mini-cabins include
They are easy to build, and require only basic carpentry skills.
They can be built using of readily available building materials
The size contributes to a low cost for the budget-conscious
Simplistic design and structure
Shorter construction time
No building permit required (check your area zoning requirements).
Multipurpose additional space that's easy to maintain and make beautiful
It doesn't require a 30 year mortgage

The living space in a mini cabin is small; but for a starter retreat, mini cabins give the average person a chance to have a getaway of his or her own. The space constraints require special treatment in the planning stage. These same space restrictions are encountered in houseboats and RV homes and many ideas from these small space designs can be adapted to your mini cabin. A variety of appliances can be bought "off the shelf" in Marine Supply and RV Supply stores.
An addition to your current retreat
While mini cabins are much smaller than what we are currently used to for daily living, they make a wonderful multipurpose building for your current getaway, including
Mother-in-Law's "apartment"
Playhouse for the kids
Storage
Art studio
Hobby and game room
Home office
Quiet contemplation
Intimate parties
Romantic Retreat
A place to live while the big house is built or remodeled
To simplify one's life
A guest house
A great place for a college student who still lives at home!
Building your mini
The design phase can be relatively simple. Architectural software can be purchased to help design mini cabins, and some major home stores offer free design services with the purchase of lumber and materials. A simple web search will also reveal many free mini cabin/shed plans that can be altered to suit your needs or give you ideas to create your own. (www.summerwood.com, www.diyonline.com, www.floorplanner.com)
Most importantly, in the design phase, it's important to find out the regulations in your area. Plumbing may be strictly regulated, and most mini cabins are not suitable for indoor plumbing because of space and sanitation. It's important for healthy living and safety that these issues are sorted out before building. Electricity challenges are easily solved with the many solar power methods available to us today. Check RV and Marine stores for solar alternatives and batteries. Mini cabins are a perfect way to start "green living."
Prefab kits are available from a number of cabin and loghome builders, including Timberpeg, Panel Concepts, Oregon Timberwers, Shelter-Kit Inc, and Tiny Green Cabins to name only a few. The kits come with most everything you need and can be assembled by you or a professional, given your experience, time constraints and budget.
Converting an existing shed or purchased prefab into a multipurpose mini cabin is a time saving option for those in a hurry. With a little imagination and materials, that simple garden shed can be your future home office or to enjoy a cup of coffee while the world zooms around.
Whatever your inspiration, the mini cabin can be a suitable and cozy retreat that can allow us a little more room for guests . . . or a little more room to remember the simple things in life.